It's an understatement to say that this year has changed the way we work. Nationwide lockdown, remote working, travel restrictions… there have been many adjustments for us all. As lockdown eases, more people are expected to drive to the office, particularly as we're encouraged to avoid trains and buses.
But is there a way you can support your staff's safe travel, without adding more pollution to an atmosphere that has experienced a welcome reprieve?
Here's why there has never been a better time to invest in company electric cars and infrastructure for employee EVs.
Company car tax breaks
As part of a campaign to promote EV adoption, tax on electric company cars fell to 0% in April 2020.
Company car tax is based on the vehicle's Benefit-in-Kind (BiK) value set by the government for each financial year. For the next 3 years, it's been slashed for electric models:
| | | | | |
| --- | --- | --- | --- | --- |
| Financial year | 2019/2020 | 2020/2021 | 2021/2022 | 2022/2023 |
| EV BiK value | 19% | 0% | 1% | 2% |
| Annual company car tax on Nissan Leaf for 20% rate taxpayer | £997 | £0 | £62 | £125 |
These low rates make this a great opportunity to help transition your employees to low emission vehicles.
On top of that, electric car drivers don't have to pay road tax!
Commercial EV charging grants
The Office for Low Emission Vehicles (OLEV) has recently extended its non-repayable grants to encourage businesses to invest in charging infrastructure.
Grants of up to £14,000 per company are available towards the cost of installing EV chargepoints. The Workplace Charging Scheme pays up to 75% of the cost of a charger, with a limit of £350 per charger and 40 chargers per business.
To qualify, you must use an OLEV-approved installer, such as Spirit Energy. The scheme won't last forever, so it's worth taking advantage of while you can!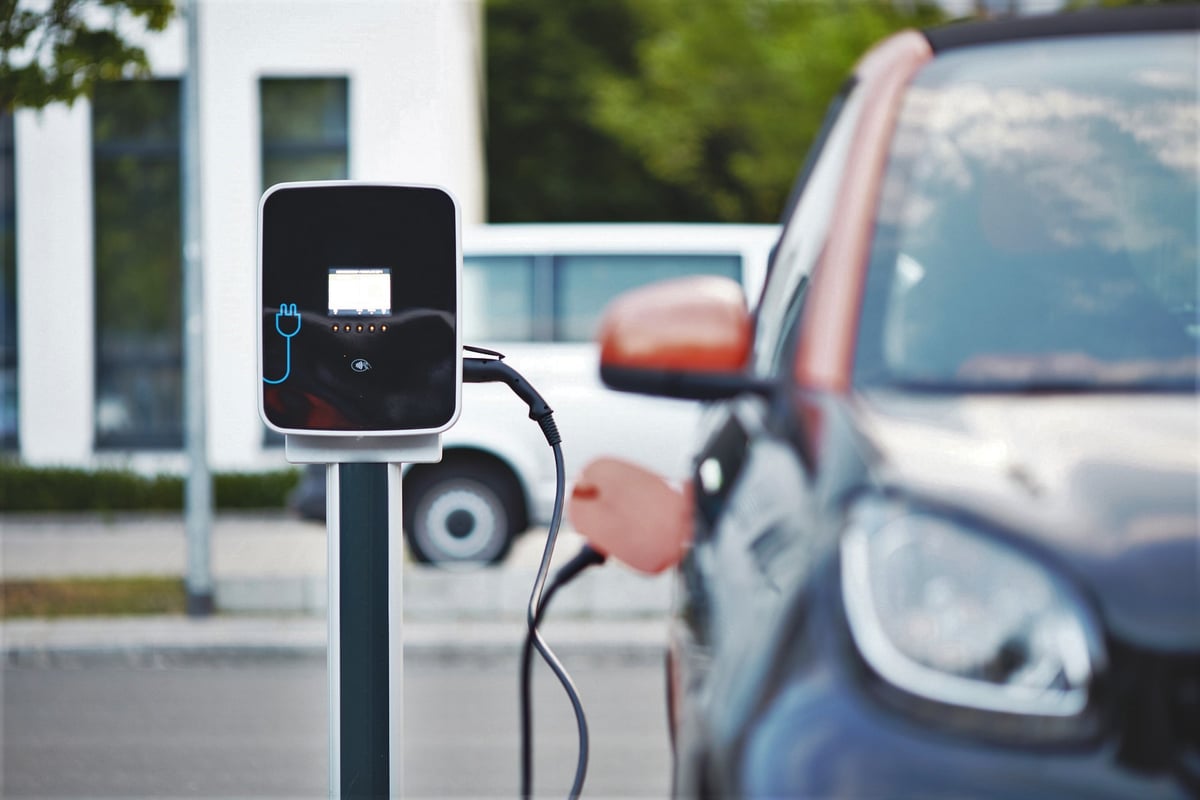 How can Spirit help?
We install EV charging points.
We take care of the whole process - specifying the best chargepoints for your needs, securing the required permissions and approvals, integrating with solar PV or battery storage where we can, and installing with our in house team. As we're OLEV approved, you will be eligible for the Workplace Charging Scheme grant when we install.
Why electric?
As the lockdown eases, more people are getting back in their cars:
Data source: DfT.
With more people avoiding public transport, this could put an extra one million cars on the road each day in England and Wales.
This threatens to quickly undo the clean air and emissions reductions we've seen since the pandemic hit. Air pollution is such a threat that an estimated 40,000 people in the UK die prematurely each year from its impacts, and researchers in Canada estimate that every car that switches to electric saves $10,000 in public health benefits.
Walking, cycling and public transport have a vital role to play in reducing travel emissions, but they aren't practical for everyone, especially during the age of social distancing. When it comes to private vehicles, electric cars are the best option for green travel.
By encouraging your staff to make the switch from polluting engines, you'll be helping progress towards better public health and a more stable climate.
Learn more
To find out more about transitioning to electric cars at work, give us a call on 0118 951 4490, email info@spiritenergy.co.uk or download our updated workplace charging fact sheet: