In a recent NUS survey, 90% of students said they were concerned about climate change (about 10 percentage points higher than the population as a whole). Students, and young people in general, are naturally more anxious about the climate crisis - the impacts of a destabilising environment will only become more acute over their lifetimes.
Averting the most dangerous effects of climate change means rapidly cutting down greenhouse gas emissions. The UK has committed to reaching net zero emissions (balancing out any unavoidable CO2 with 'offsets') by 2050. This target includes all sectors of the country, including education.
Ensuring zero carbon schools become the norm for new buildings, and that existing schools are retrofitted to slash emissions, is an essential part of achieving net zero. Doing so doesn't have to be an arduous process - in fact, it can be a great way to engage an ecologically conscious student body in direct climate action. Here we lay out some of the steps involved.
Emissions from schools
Schools account for around 2% of the UK's greenhouse gas emissions, which is equivalent to 15% of the country's public sector emissions.
This includes:
energy usage at school,
pupil and staff travel to school,
supplies (e.g. school meals),
waste.
For the most part, we'll concentrate on reducing energy consumption in schools.
Passivhaus schools
Passivhaus is one of the strictest building standards for energy efficiency. It combines precise rules on air tightness, ventilation, natural light and shading, insulation and more to certify buildings to the highest performance standards.
While not equivalent to zero carbon, Passivhaus is a superb way to minimise energy consumption in a newbuild, which of course makes it easier to power from zero carbon sources. Passivhaus schools aim to require 80% lower operational energy usage than conventional school buildings. While they are 5-10% more expensive to build, the ongoing running costs are much cheaper. An additional benefit is better indoor air quality, which can improve concentration.
A couple of years ago we installed a solar PV system into a green roof at the UK's first Passivhaus secondary school: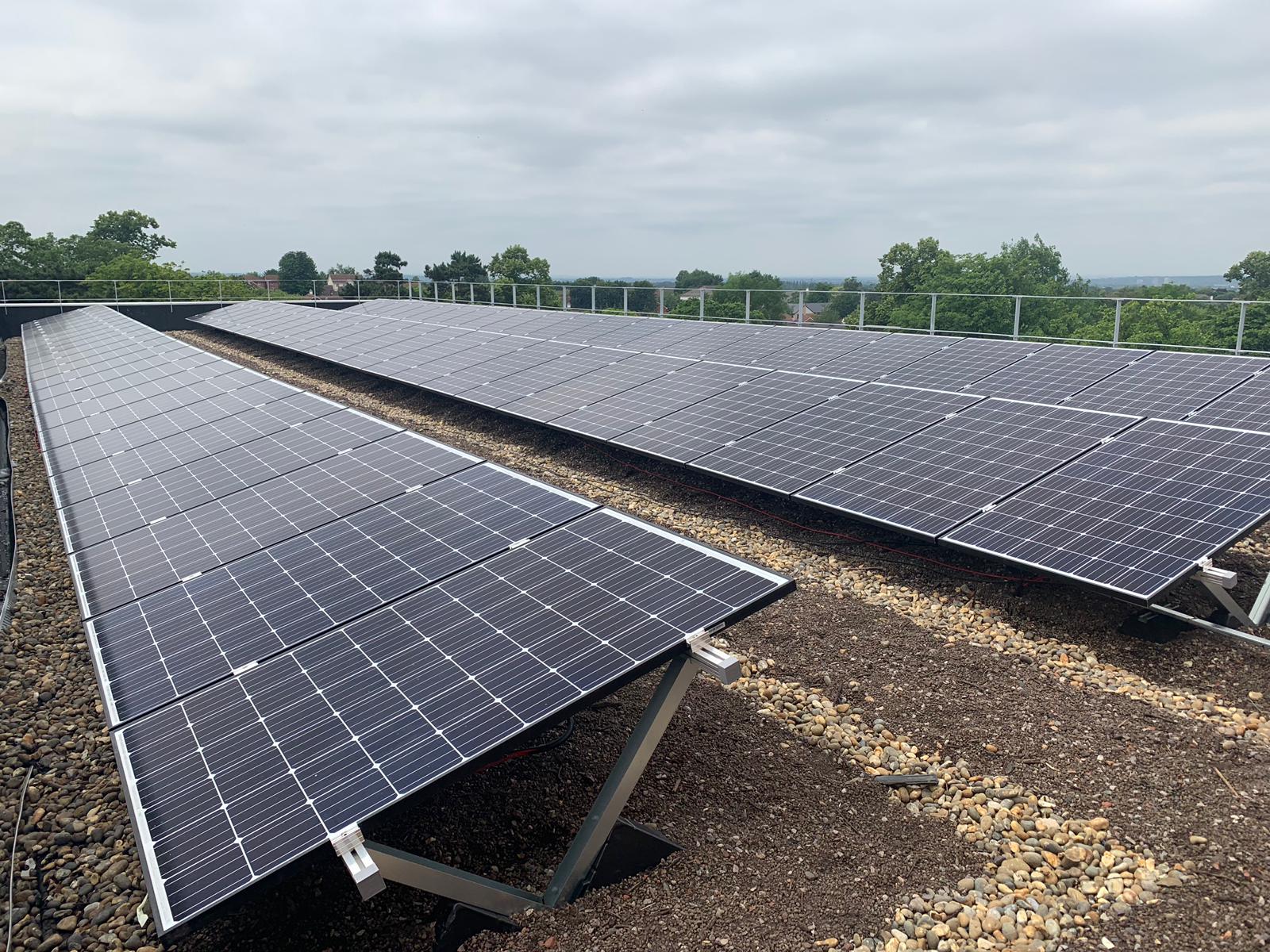 How to build a zero carbon school
There are two components of any building's carbon footprint:
Embodied carbon - emissions from construction and building materials.

Operational carbon - emissions from any usage in the building.
Our expertise is in renewable energy generation and usage, so we will focus on the operational carbon element.
To eliminate operational emissions in a new school building, it should:
be as energy efficient as possible (well insulated, top rated appliances etc.);
be entirely electric (using highly efficient heat pumps instead of natural gas);
generate clean energy on site (solar power is likely to be the most practical);
store energy on site and utilise smart technology to be more energy independent and reduce demand on the grid at peak times.
Solar PV works especially well for schools as solar generation (i.e. daylight hours) line up with times when electricity is used in the building:
Data source: Ofgem.
Financing options
With school budgets notoriously stretched, making an initial investment in carbon-cutting measures can be difficult, even if they result in substantial bill savings.
Fortunately, there are a few opportunities for financing in the education sector, such as:
Solar Purchase Power Agreements (PPAs)

. An investor funds the solar PV installation at your site, while you sign a contract to buy the generated electricity from them at a discount rate. Back in 2016, we installed the UK's largest educational solar system at

Andover and Sparsholt College

, which was funded by a PPA.

LED lighting as a service

. We've partnered with ECI Energy to offer LED lighting upgrades at no upfront cost - instead, the installation is repaid from a proportion of bill savings over 5 years.

Salix Finance

. The government provides funding through Salix to the public sector, including education, in order to improve energy efficiency and reduce carbon emissions.
Other ways to reduce your carbon footprint at school
Of course, it's not just the building that impacts a school's carbon footprint. There are many ways to engage students in climate action and reduce emissions, such as:
Encourage walking and cycling to school (invest in secure bike storage).
Apply for a

car-free school street

at drop off/pick up times.
Reduce

meatiness of the school menu

(promote veggie options by putting them first, remove carbon-intensive red meat).
Encourage energy-conscious behaviours (turning off unused lights, computers etc.).
Ensure a comprehensive recycling program is in place (including food waste).
Switch to electric school buses/minibuses and install

EV charging stations

for staff.
Learn more
If you represent a school, you can join the campaign Let's Go Zero, which aims to help all schools reach net zero by 2030.
If you'd like to learn more about zero carbon buildings, you may like to download our new brochure:
Additionally, on Thursday 29th April, we are hosting a couple of presentations as part of the ESPO Energy Webinar Event, covering:
zero carbon buildings,
virtual power plants.
You can register now to join the webinars.