This week sees the opening of COP26, the Covid-delayed climate conference where world leaders are supposed to agree plans to meet the Paris Agreement and limit global heating to between 1.5-2°C. Governments have been scrambling to come up with commitments and pledges in the run up to the Glasgow gathering, with 'net zero' the phrase du jour.
One such announcement is that the UK will run on carbon-free electricity by 2035. So we decided to dig a little deeper into the carbon intensity of electricity to see how it's changing, and what the future of renewable energy holds.
What is average grid carbon intensity?
Carbon intensity refers to the average amount of carbon dioxide (or equivalent greenhouse gases) emitted for each unit of electricity generated. It's usually measured in kgCO2e per kWh.
Why is it relevant? Well, we use it to calculate the CO2 saved by using solar energy instead of power from the grid. As well as being an interesting metric, and illustrating how clean the grid is at any point in time, it's also important when assessing the environmental impact of new buildings.
Electricity carbon intensity by country
Power source plans vary wildly around the world. In the UK, there has been a big push over the last decade to phase out high carbon coal plants. In Germany, the government accelerated its plans to phase out nuclear power in the wake of the Fukushima disaster, but then became more reliant on coal. In many Nordic countries, people have tapped into abundant clean energy sources like hydropower and geothermal energy.
Below you can compare the electricity carbon intensity by country. The UK is now towards the lower end of the scale, while the high carbon countries are generally still heavy coal users.
Data source: Carbon Footprint.
How carbon intensity of the UK grid has changed over time
According to the government's latest figures, the carbon intensity of the UK grid is 0.212 kg/kWh (as of the time of writing). This is less than half what it was a decade ago:
Data source: BEIS.
This reduction reflects the huge shift in our choice of power sources. Back in 2010, only 4% of electricity was renewable and 30% was produced by burning coal. By 2020, 37% of electricity came from renewable sources and just 1% from coal.
How much renewable energy has been installed?
The capacity of renewable energy sources in the UK has increased five-fold in the last 10 years, mostly due to wind and solar:
Data source: BEIS.
More installed capacity of course means more power generation, which has similarly increased:
Data source: BEIS.
You may have noticed that solar PV seems to be a much smaller proportion of renewable generation than installed capacity. This could be because it's easy to record how much has been installed (most is logged with the MCS) but not how much solar power is used directly in people's homes. So from a data point of view, most solar generation may be unrecorded because it never touches the grid.
Where do we use official UK grid carbon intensity figures?
Solar PV is often used to help meet Standard Assessment Procedure (SAP) requirements for new build properties. At the moment we are still required to use SAP 2012 figure of 0.519 kgCO2/kWh for grid carbon intensity calculations, which can influence whether the property has electric or gas heating and how much solar PV should be installed.
But a new version, SAP 10, is coming into force in the near future. From the draft versions, carbon intensity has plunged to 0.136 kgCO2/kWh. This should make electric heating more attractive than gas and encourage housebuilders to install more solar panels. The reason this figure is lower than the current carbon intensity is that it's based on a 5-year projection for 2020-2025.
At Spirit, we want to be as fair as possible when calculating the emission savings from installing solar panels. So, while for new build tender projects we're still obliged to use the outdated SAP 2012 factors, we now use most recent government emission factors for our residential and commercial clients. This will give a more accurate estimate of how much carbon dioxide your solar system should keep from the atmosphere.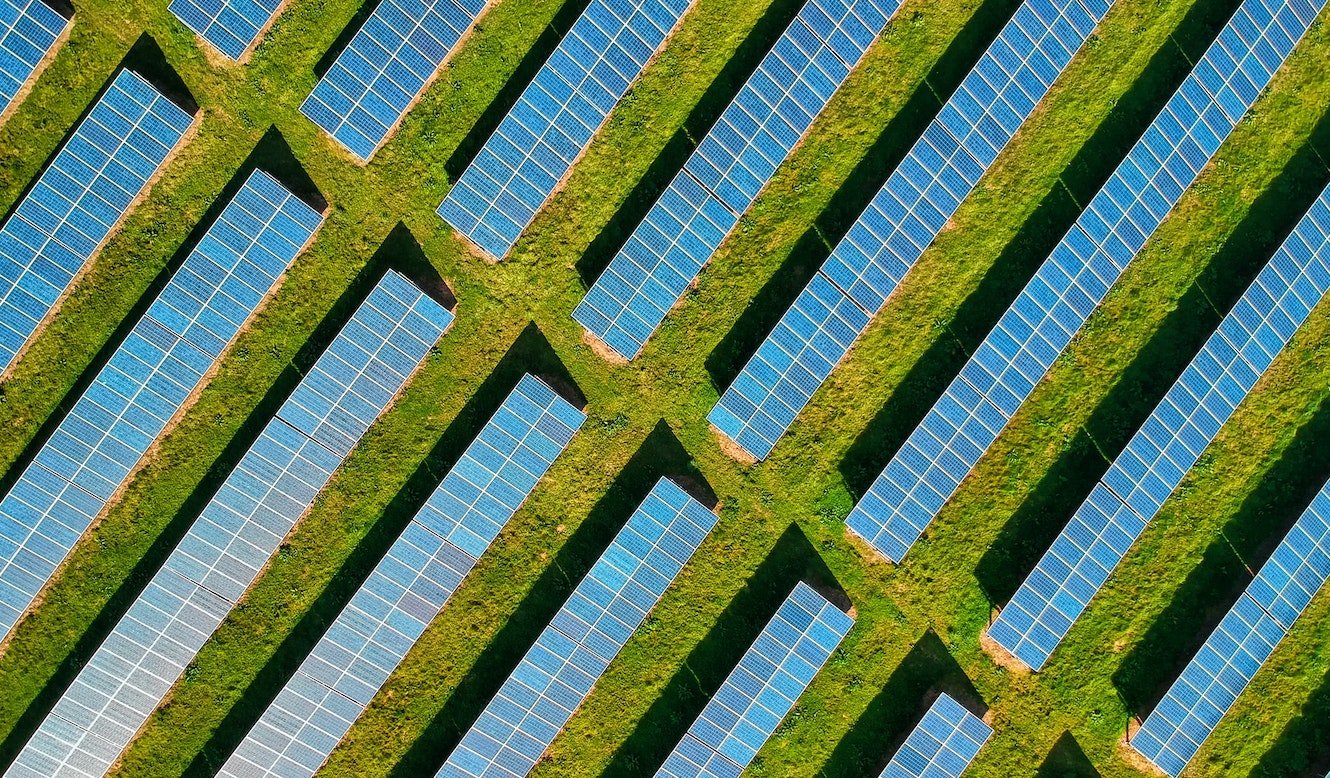 Do we still need more solar panels?
As we've seen, the planet-heating emissions of the UK grid are plummeting due to the rollout of solar, wind and other renewables. But to reach zero, we'll need many more clean energy systems.
To support the electrification of heat and transport, the government estimates that low carbon electricity could meet around half the country's energy demand by 2050. This would require more than four times the current solar and wind generation we have at the moment. So yes, we're going to need a lot more solar panels!
To learn more about what we're doing at Spirit to help, download our revamped brochure: