Love them or loathe them, SAP requirements are a key part of building new homes. We know how tricky it can be to meet the regulations for energy performance and CO2 reductions. But as solar panel installers with long standing partnerships in construction, we're determined to help you meet SAP requirements with solar PV as simply as possible.
What are SAP requirements?
Standard Assessment Procedure (SAP) is the method for producing an energy rating for new homes.
It is used to calculate the energy performance (and anticipated running costs) of new builds to meet the requirements for Building Regulations. It also informs the property's EPC (Energy Performance Certificate), which will be available to potential buyers and tenants. The EPC provides a total energy efficiency rating for the property banded from A to G (A being the most and G being the least efficient), taking into account the building's lighting, heating and insulation standards as well as any renewable energy generation on site.
UK climate policies are tightening every year, forcing architects and developers to pay more attention to the energy performance of buildings they design. For this reason the SAP regulations have become extremely important from an early stage in the project.
SAP applies to new builds, but also to some conversions, extensions and change of use developments.
On the environmental side, SAP requirements include a CO2 emissions reduction for the property. The amount depends on the local authority, but is usually in the region of 30-40% reduction. To achieve this, energy improvements can be made through insulation, high efficiency boilers, heating controls, LED lighting and renewable energy generation.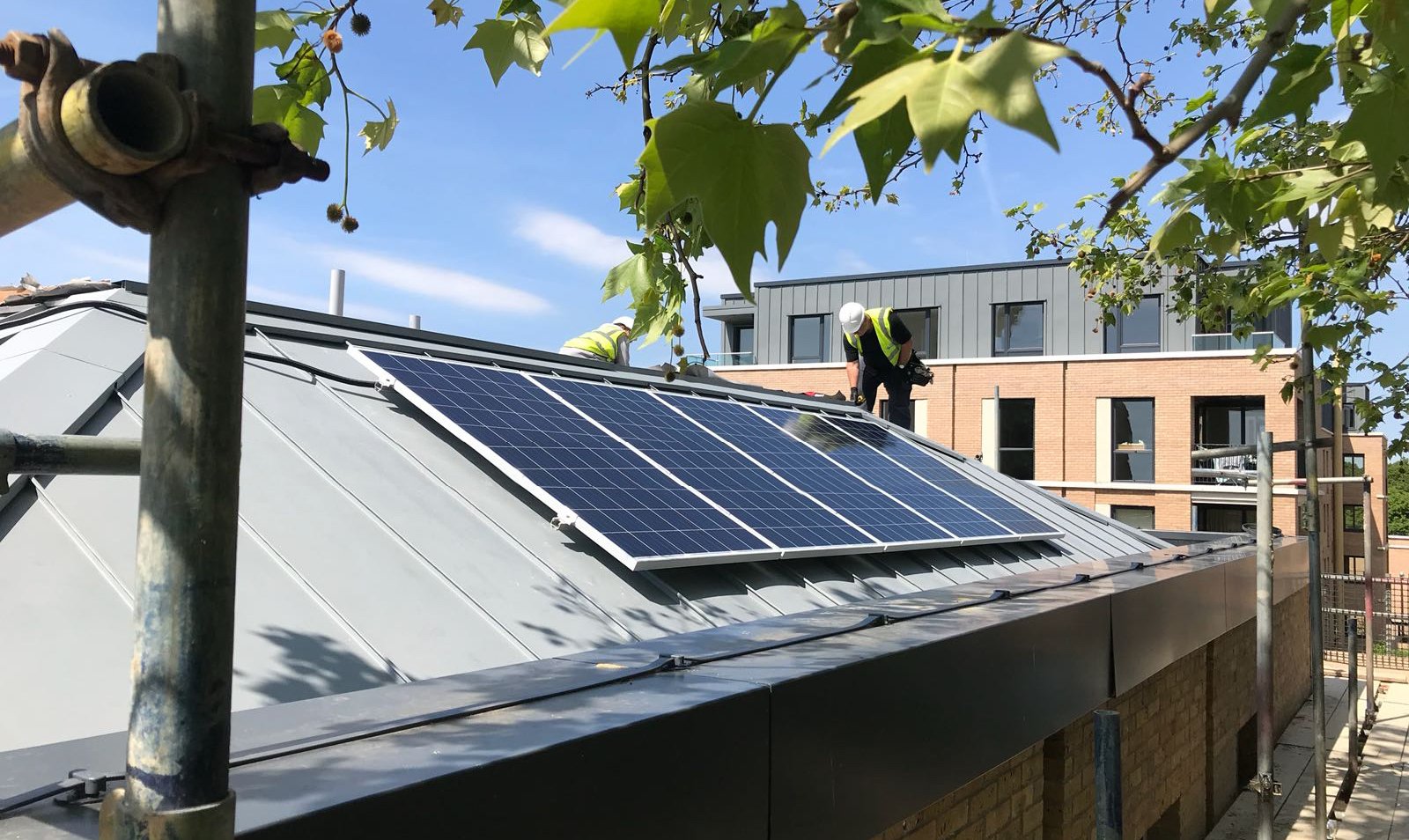 How does solar PV help?
As the carbon intensity of the UK's electricity grid has fallen, this is reflected in the SAP estimates for electricity emissions. So traditional fuels like gas for heating are seen as more carbon intensive and are being phased out - gas boilers are set to be banned in new builds from 2025.
Alongside electric heating, new properties are expected to support EV charging, adding up to a greater electricity demand in homes. So onsite, low carbon generation like solar becomes essential for manageable bills and a great way to bring down the property's emissions in SAP calculations.
In most cases, solar can easily be added to the building design to supplement existing measures and achieve the required reduction. This includes in-roof PV panels where no roof tiles are needed beneath the panels to save on building costs.
How to calculate the CO2 savings of a solar PV system
So how will installing solar panels affect the carbon emissions associated with the property? Here's how to calculate the predicted savings:
Establish the installed peak power of the system (kWp).

Calculate the electricity produced per year (kWh/year):

0.8 x kWp x S x ZPV

where S is the annual solar radiation for the relevant climate, orientation and angle of the PV and ZPV is the overshadowing factor (both from SAP tables).

Calculate the CO2 savings from the solar PV system:

0.519 x kWh/year

since the emissions of electricity displaced by solar PV is 0.519kg CO2 per kWh (at the time of writing).
You can then compare the solar carbon savings with the baseline emissions of the property to see the percentage saved. If this is not enough to meet requirements, see if it's possible to increase the peak output of the proposed system. You may be able to use higher power panels if roof space is limited, for example.
For more information, see the full SAP 2012 document.
We can help you
We're well versed in designing photovoltaic systems to meet SAP regulations, whether it is a kWp, kWh or a CO2 value to reach. It's been a core part of our relationship with housebuilders over the past 10 years.
If you'd like our help or advice, please do reach out on 0118 951 4490 or info@spiritenergy.co.uk.