Today is a big day at Spirit Energy.
It's our 10th anniversary.
Most importantly we are celebrating with a big cake, but we have also taken time to review some of the milestones reached within the last 10 years, both at Spirit and within the wider community, focusing on cleaner air, climate change mitigation and sustainable fuel supply.
10 year milestones
Spirit milestones

Sustainability milestones

28th Jan 2010

Spirit Solar Limited incorporated.

12th May 2010

First domestic solar PV installation completed.

Feed-in Tariff launched.

1st April 2010

Mid 2011

Built up to 8 installation teams, running out of four depots, covering the whole of the south of England.

1st August 2011

First commercial solar PV installation completed.

5th Jan 2012

Spirit MD gives a 'solar handbagging' to David Cameron over the unlawful lack of notice given over the tariff cut, the loss of 25,000 jobs overnight and the cost to the industry. Lack of notice was subsequently successfully challenged in the high court by an application for judicial review, jointly made by environmental pressure group Friends of the Earth (FoE) and two solar companies – Solarcentury and HomeSun.

DECC announced dramatic cuts of around 55% to tariff rates, to be effective from 12th December 2011, with a consultation exercise to end on 23rd December 2011.

October 2011

2012 - 2013

Spirit survived a further series of cuts to the tariff, albeit with the loss of around 60 jobs over a two year period. Most of our competitors went out of business.

June 2014

Installed first biomass system under the RHI.

Renewable Heat Incentive (RHI) launched.

9th April 2014

Amber Rudd announced that coal fired power plants would be phased out within 10 years with use restricted by 2023.

November 2015

February 2016

Completed largest installation at any educational establishment in the UK (Sparsholt College – 633 kWp).

The Paris Agreement unified all nations in the aim to limit global temperature rise to well below 2°C above pre-industrial levels.

December 2015 / Nov 2016

May 2016

Spirit appeared on BBC Politics discussing the possible impact of Brexit on the environment.

July 2016

First battery and EV charger installations.

January 2017

Spirit became a partner of Tesla, installing Powerwall 1, and now Powerwall 2.

OLEV grant began to incentivise EV chargepoint installations.

1st October 2016

1st September 2017

Spirit rebranded from Spirit Solar Limited to Spirit Energy, reflecting the diversification of its activities from solar PV to integrated energy solutions comprising solar, battery storage, car charging and low energy lighting.

Government plans to ban the sale of new petrol and diesel cars from 2040 to tackle dangerous air pollution, which causes 40,000 premature deaths a year in the UK.

July 2017

1 trillion watts of solar and wind power generators installed worldwide.

August 2018

Feed-in Tariff scheme closed to new entrants.

31st March 2019

UK legally commits to net zero emissions by 2050, the first major economy to do so.

27th June 2019

October 2019

Selected to install around 300 domestic solar PV installations in a post subsidy world, under the Lord Mayor of London's Solar Together scheme.

The government implemented an immediate ban on current and future fracking in the UK.

November 2019

Smart Export Guarantee comes into force, securing export payments for solar generators.

1st January 2020
Spirit milestones
Over 10 years Spirit has grown into a company employing around 25 people with a passion for renewable energy. With all of the cuts to the Feed-in Tariff, the first few years were a bumpy ride, but we now have a thriving business with five installation teams and two installations depots, one in London and one in Reading. We are recognised as experts in the installation of solar PV, energy storage systems and electric car charging equipment.
We have installed thousands of renewable energy systems for clients ranging from private individuals to councils (Oxford, Kingston, West Berks, Portsmouth), universities and colleges (Oxford Uni, Warwick Uni, Southampton Uni, Goldsmiths College, Sparsholt College), corporates large and small (Fujitsu, Berkeley Homes, Premier Inn, JLR), house builders (Taylor Wimpey, Willmott Dixon, Morgan Sindall), construction companies and contractors, architects and sustainability consultants.
UK renewables
The makeup of Britain's electricity supply has changed dramatically over the last decade. In 2010, renewables contributed just 4% of our total demand; by 2019, this had increased to 32%.
2010

2019

Source

Electricity produced (GW)

Percentage of total

Electricity produced (GW)

Percentage of total

Gas

17.84

46%

13.05

39%

Wind

1.15

3%

6.64

20%

Nuclear

6.71

17%

6.03

18%

Imports & exports

0.82

2%

2.86

9%

Biomass

0

0%

2.07

6%

Solar

0

0%

1.24

4%

Coal

11.84

31%

0.69

2%

Hydro

0.24

1%

0.41

1%

Pumped storage

-0.12

0%

0.19

1%

Total

38.5

33.2
Data source: Drax.
As you can see this has made our electricity supply much more diverse: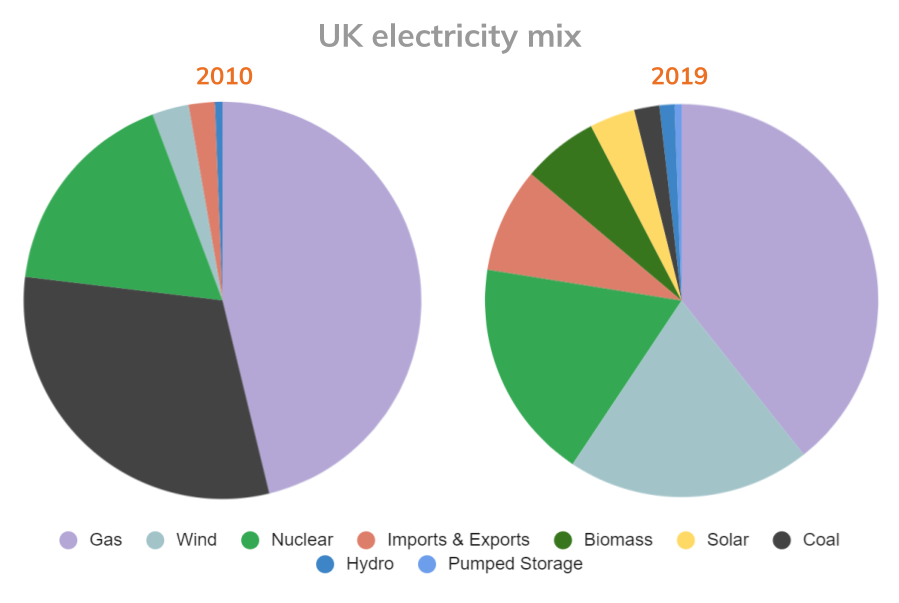 Coal is close to being phased out, replaced by a surge in renewables like wind, solar and biomass. As we come to rely on many intermittent sources, diversity becomes a strength, but we will need a lot more investment (particularly in energy storage) to transition to a stable decarbonised grid.
Note that total electricity consumption has actually fallen by 14%, most likely due to efficiency improvements. But it's expected to increase as we electrify transport and heating (heat pumps or hydrogen produced via electricity).
Global renewables
By August 2018, global wind and solar PV installations reached a trillion watts, for the first time. While this milestone took the industry 40 years, the second trillion watts are expected to be installed in five years, in 2023. With the supply variability inherent in renewables, the need to co-invest in storage is becoming increasingly important.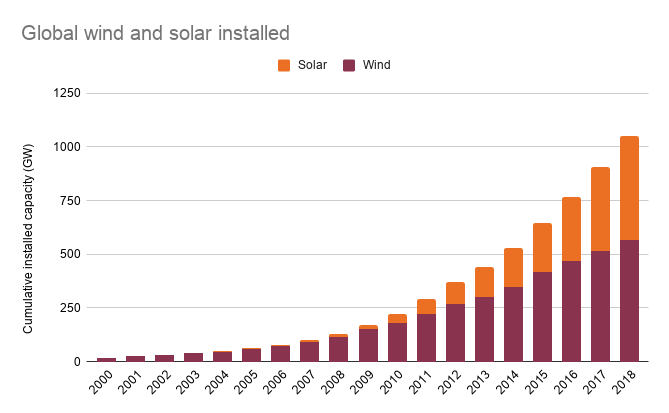 Data source: Our World in Data.
The investment costs required to install the second trillion watts are expected to be around half of the cost of the first trillion watts. In the solar market in particular, technology costs have fallen dramatically whilst solar cell efficiency has increased by around 25% or so.
When installed at scale under the right conditions, solar is now the lowest cost power generation technology. For example, in 2017 Saudi Arabia tendered for solar power capacity and the winning bid was to supply power at a rate of 2.34 US cents per kWh. Under optimal conditions and at utility scale, just north of 2 cents per kWh is all solar costs.
Sustainability and climate change
Since Spirit started in January 2010, the UK has had four General Elections and four different Prime Ministers. The government narrative around the environment and clean energy has swung from positive under Gordon Brown with the introduction of the Feed-in Tariff scheme in April 2010, to lukewarm at best under David Cameron ('cut the green crap' being the phrase most associated with the latter days of his government). That said, in November 2015, Amber Rudd did announce the phasing out of the UK's remaining coal-fired power stations.
More recently there have been some positive signs, particularly on dealing with air pollution. New sales of petrol and diesel cars are due to be halted after 2040, with the potential to bring this date forward. Investments in electric vehicle infrastructure was the defining environmental pledge in the Conservative's election campaign. Low emission zones are expanding in London and other cities to improve deadly urban air quality.
In addition in November 2019, the government halted fracking and warned shale gas companies that it would not support future fracking projects. The UK led the way last year by declaring a climate emergency and enshrining a net zero pledge into law. Whether we will follow these landmark words with meaningful actions remains to be seen...
Climate change protests
A decade of global protests has erupted into the climate action movement, with thousands galvanised by groups like Fridays for Future and Extinction Rebellion. Frustrated at the lack of worldwide effort to halt emissions in the face of environmental devastation, people have taken to the streets to demand change. With awareness growing and pressure mounting, politicians and big businesses are running out of places to hide in the make-or-break decade ahead.
Paris Agreement
On paper, one of the most significant moments was the signing of the Paris Agreement, reached on 12th December 2015. The Agreement came into force on 4th November 2016.
The Paris Agreement's central aim is to strengthen the global response to the threat of climate change by keeping a global temperature rise this century well below 2 degrees Celsius above pre-industrial levels and to pursue efforts to limit the temperature increase even further to 1.5 degrees Celsius. Additionally, the agreement aims to increase the ability of countries to deal with the impacts of climate change, and at making finance flows consistent with a low GHG emissions and climate-resilient pathway.
To this date, 187 of 197 Parties to the Convention have ratified the Agreement. That said, in November 2019 Donald Trump began the process of formally withdrawing the US. To set against this, China and France have signed a pact committing to the irreversibility of the agreement, and in practice one of the most important commitments to sustainability has come from China.
China is the world's most populous country and the largest emitter of carbon. As the world's manufacturing hub, it is in a unique position to change the course of global emissions. In the last decade, the signs have been pretty good. After suffering severe smog in 2011, the product of years of rising coal consumption, the Chinese government initiated a massive national action plan: halting the growth of coal consumption, improving air quality and helping the country limit emissions overall.
Looking ahead
Quite a decade when all is said and done…
In fact what is clear is that we are in the middle of an energy revolution, or at least a major period of evolution in how the world sources, manages and distributes energy.
The next 10 years will be absolutely critical in the fight for cleaner air, reduced emissions, containment of man-made climate change, and the drive to live sustainably on the only planet we have.
We will aim to play our part as best we can, with a renewed commitment to powering change by designing and installing solar PV, energy storage systems and electric car charging equipment using the best technologies available. Alongside this, we'll continue to share expertise from the industry to help others on their renewable journey.
Thank you for all your support over the last decade.