Electric cars are coming of age.
There are 130,000 electric vehicles driving on UK roads, car manufacturers are investing heavily in the technology, and the charging infrastructure is gradually being rolled out.
What's more electric vehicles are already breaking all of the records. Whilst the gas guzzling Bugatti Chiron manages 0-60 in a leisurely 2.3 seconds, Japanese car maker Aspark has produced the electric Aspark Owl which does 0-60 in 1.921 seconds. Meanwhile the electric Range Rover Sport has recently climbed the '999 steps to heaven' in Tianmen Mountain (watch the video from the start of minute 4 if you don't want to listen to the preamble). And of course, Elon Musk's Tesla is nearly 5 million miles away from Earth, travelling, at the time of writing, at a speed of 7257 miles / hour, doubtless with Bowie's Starman still blaring out to announce man's latest visitation in space. Along with a load of our very best bacteria, apparently.
All very exciting. Back to the mainstream...
Driving an electric car costs around 3.5p per mile as opposed to 15p or more per mile for a petrol car. If you drive 100 miles a week, you can save around £11.50 per week in fuel costs, to set against increased lease / finance costs of around £15 per week.
So for £3.50 a week you will be cutting out tailgate emissions, reducing pollution, and saving yourself from breathing in petrol fumes every time you fill up.
Now that you've been convinced to make your next car electric, you'll need an EV charger.
Which charger?
We have spent a few weeks looking at the different charger brands, and the different approaches they are taking to building a platform to power the EV market.
We've put together a list of the key things to consider when choosing an EV charger (aside from checking eligibility for the £350 OLEV homecharge grant), the main ones being as follows:
is a 'dumb' charger suitable (a 'dumb' charger is essentially a dedicated car charging socket, without monitoring, remote stop-start etc)?
do you want to monitor 'charger time' or kWh consumption (e.g. if you need to get reimbursement from your grown-up kids or your employer), and if so do you need a MID approved kWh meter?
do you have solar PV and if so is there excess solar PV that could be diverted into your car?
do aesthetics matter?
future proofing - can your 'dumb' charger be upgraded with intelligence, or Type 1 tethered swapped for Type 2 tethered etc, or would you need to rip it out and start again?
is the charger approved for the OLEV grant and what's its warranty (OLEV grants require 3 years)?
Chargers compared
As a result of our investigation, we have produced two comparison tables on our website, comparing the offerings of EO, EVBox, Rolec, and zappi (domestic).
Charger types
We've also updated our page on charger types, aiming to provide a starting point if you know nothing about electric vehicle charging.
Overall our recommended charger brands are EVBox and EO, along with the zappi for home charging in properties with solar PV. Rolec produces a very popular model called the WallPod which we have also looked at. The right charger for a given situation will depend on budget and on the required functionality.
Why EVBox?
EVBox was founded in the Netherlands, which is a few years ahead of the UK in adoption of electric vehicles. The company has become the sole public supplier of public charging infrastructure in cities such as Amsterdam, Rotterdam and Monaco. EV Box hasan installed base of over 50,000 chargers across nearly 1000 cities. The company has recently been bought by energy giant Engie and it is generally regarded as a supplier of high quality products with strong financial backing.
Overall, EVBox has developed superior aesthetics, solutions for leased / business cars (cost reimbursement) as well as 'shared charging' at home where more than one owner is using a single charger.
The main model for the homeowner is Elvi, which utilises the free Hey app for monitoring. There is also HomeLine, aimed at businesses installing chargers in domestic properties as part of a leased car scheme.

Why EO?
EO has created a beautifully simple, modular and scalable system. The entry level eoMini is a 'dumb' charger providing an easy-to-use and cost effective home charger. The eoBasic range is a 'dumb' charger which comes with a socket or a tethered cable. The eoGenius is a 'dumb but smart-ready' charger to which intelligence (monitoring etc) can be added as required via eoHUB, eoAPP and eoCloud, with a modest (£25 / year) subscription fee per charger, with up to 30 chargers per eoHUB. The fact that the intelligence sits outside the charger is one of the key differences between EO and competitor chargers.
Further, EO is working on vehicle-to-grid charging and on their vision to provide an integrated system combining EV charging with solar, battery storage and other smart devices with the 'smart-grid', enabling users to optimise use of solar PV, and keep grid import costs to a minimum.
zappi
Many of our customers have installed an iBoost or Immersun or similar to divert excess solar PV into their hot water tank. If you have an electric vehicle (EV), it makes sense to divert excess electricity into the EV battery. In fact if your hot water is heated by gas, oil or biomass, it makes more sense to charge the car than it does to charge the hot water tank. An iBoost is generally displacing fuel costing ~ 5p per kWh, and so 1kWh of diverted electricity is worth ~ 5p. Charging the EV displaces grid electricity at the 'full value' ~ 19p per kWh.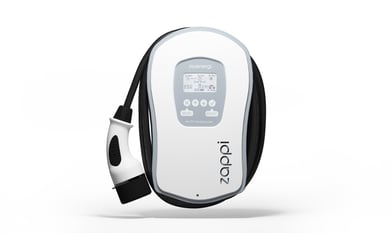 zappi is an EV charging point with special eco charging modes to optimise self-consumption of on-site solar PV, wind etc.
Request a quote
If you would like a quote for the installation of an EV charger, please get in touch. We can advise on the best model to suit your particular needs, and give you a cost for installation. We can also advise on applying for the OLEV grant.
Call 0118 951 4490, email info@spiritenergy.co.uk or request a quote: