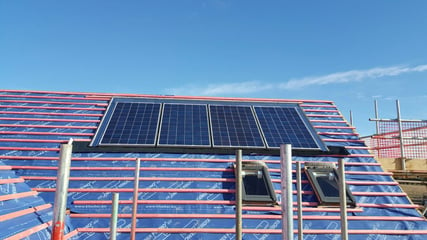 In 2015/2016 Spirit was contracted by Pye Homes to install and commission 35 Solar PV systems for plots at its Shipton Road residential development site in Woodstock. The arrays ranged from 2 to 8 panels on each house. These all contributed to a total of 202 Shinetime 250W panels.
The systems are designed to meet planning requirements. They will also qualify for Feed-in Tariff and export tariff payments, but the main benefit will be to reduce the energy bills by £3,000 as well as the carbon footprint of the residents.
Due to Spirit's ongoing excellence in customer service, project management, and efficacy from first contact to commissioning, we were part of the team that won the 2016 Pride in the Job Award at Shipton Road.
For a full list of all our most notable projects, please see our case studies page.