We're delighted to announce that our recent Charis Holt Solar PV installation has been shortlisted for Best Residential Rooftop PV installation at this year's Solar Power Portal Awards.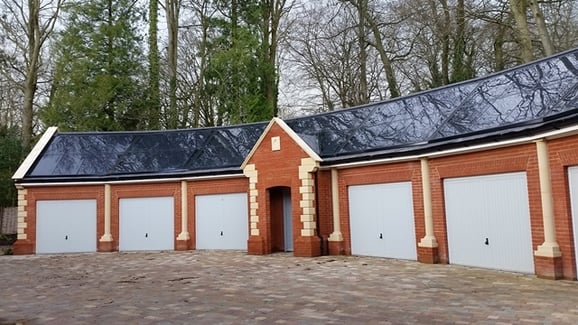 The project began in October 2015 when Spirit was approached by Milgate (Winchester) Ltd in respect of a luxury new build development in Winchester. The client was seeking a system design for the detached communal garage, a complex building spanning across 80° from SSW to ESE, with seven different roof orientations, a large dormer in the middle face and elevated coping stones at both ends. These factors all meant that standard panels could not be used, and a custom panel solution was the only option.
Spirit proposed a solution comprising four systems in total with a combined output of 12.465 kWp. The solution consisted of 55 custom-made GB-Sol panels of various sizes, shapes and outputs, plus 14 'dummy' panels without any cells to match the shape of the roof with seamless integration. The system was both unique and stylish, combining traditional Georgian architecture with the modern appearance of solar PV resulting in a stunning combination.
The developers chose Spirit's solution over many competing proposals. There followed multiple iterations during the design stage and in the end the final solution consisted of a combination of standard 60-cell panels, thinner rectangular panels, triangular panels and dummy panels. A total of 31 unique panel designs were incorporated – needless to say that meticulous measurement, planning, design and installation were required to make this a reality.
The installation process itself was also very challenging. One issue was that as the panels were frameless, they were much more fragile than regular panels and therefore extreme care had to be taken while handling them. As the panels comprised the roof covering itself, temporary waterproofing measures were required during the installation process prior to the panels being fixed down in their final positions.
This project is a fantastic example of how solar PV can be incorporated into a residential building project with very high aesthetic standards and complicated building designs which would ordinarily not be considered compatible with solar panels. Additionally, the scheme benefits from the potential of having solar-powered car chargers in the future, when no doubt the residents will all be driving plug-in electric vehicles.
The award winners will be revealed at the Solar Power Portal Awards Dinner held on the 4th of October at the Hilton Birmingham Metropole. We are looking forward to the event and are confident of building on the awards that we won at the Solar Power Portal Awards 2014, for best Public Space Installation and Renewable Heat Installation!