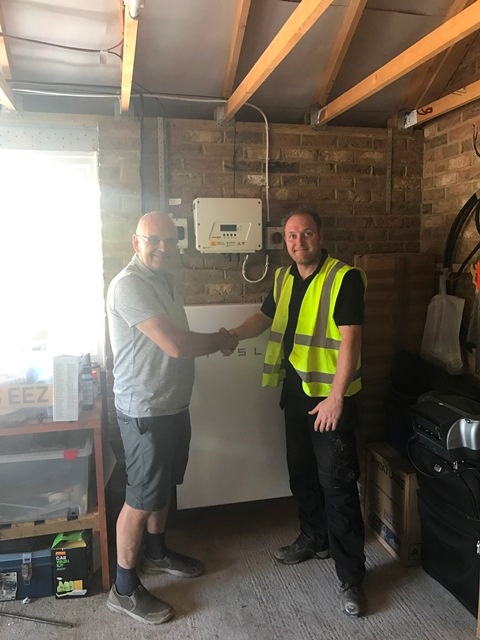 In August 2017, Spirit commissioned our first 13.5 kWh Tesla Powerwall 2 together with a 4.2 kWp PV system.
Mr W enquired through Tesla directly who then passed on the installation to us as his local certified installer. Looking to maximise the amount of panels installed without needing to apply for grid permission, Mr W decided to fill his garage roof as well as adding a few more on the main house. This size of PV system meant that Tesla Powerwall 2 was the natural battery choice as it would be able to soak up a lot of the excess PV.
In the winter months, when there is little spare solar energy available, the battery will be able to charge from the grid at off-peak times and in the future even participate in grid balancing services to generate extra revenue.
The entire solar PV and battery storage performance can be monitored through the Tesla App.
He had this to say about us:
"I had my installation of PV panels and Tesla Powerwall 2 battery installed separately, first the panels and a little later the battery but this was not any fault of Spirit Solar but Tesla were, shall we say, a little obscure about when they could deliver the battery.
The installation of the solar panels went smoothly and apart from a problem with Wi-Fi which was fixed by running Ethernet directly to my router the whole process was smooth from beginning to end. The battery installation went well, with the help of my wheel barrow, it really is heavy and as this was their first install of the Powerwall 2 it went remarkably quickly. The commissioning of the battery was duly done and all the software apps work splendidly.
I would whole heartedly recommend Spirit Solar to anyone thinking of installing PV on its own or in conjunction with a battery."