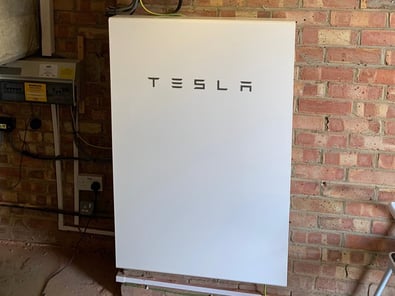 In August 2019, Spirit commissioned a 13.5kWh Tesla Powerwall 2 to store power generated by an existing PV system in Croydon.
In the photo you can see the Gateway placed just above Powerwall. The Gateway device measures energy flow through the house, telling the battery when to charge or discharge, and islanding the house in a power cut. Mr C went for the backup option with Powerwall, which means he can use stored energy as an emergency power source in a blackout. No more faffing about with candles and torches!
Using a model of Mr C's electricity usage habits, we estimate his on-site solar power usage will increase from 36% to 94% with the battery. He said he is 'very pleased with the installation'.