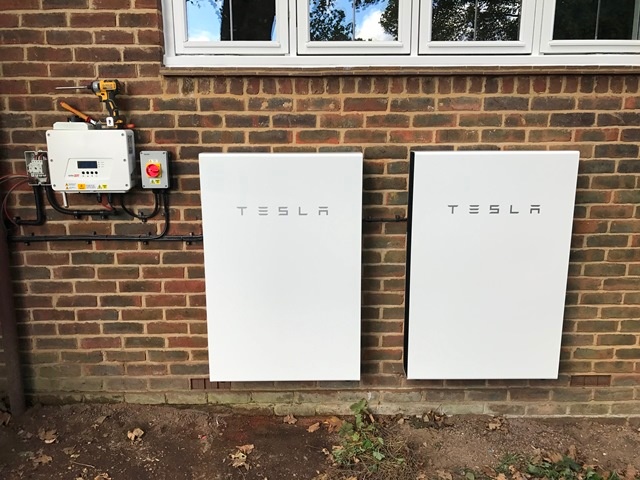 In October 2017, Spirit commissioned two 13.5 kWh Tesla Powerwall 2's alongide a 6.54 kWp PV system.
Mr H had a very high electricity usage when he first contacted us. Originally interested in just one Powerwall, it soon became clear that he would benefit equally from two since his usage was so high and a large PV system (6.54 kWp) would fit on the roof using high efficiency panels. The panels and storage system are expected to save around £950/year in electricity bills, in addition to the ~£450 income from the feed-in tariff.
Powerwall 2 has the ability to off-peak charge, allowing the battery to charge overnight at set times, taking advantage of the lower electricity tariffs. This functionality compliments the energy produced by the solar PV as to allow the batteries to charge up enough overnight to reduce the need of having to draw electicity from the grid during the day. This off-peak function will prove even more beneficial in the winter months when the PV system produces less and in the future it will even be able to participate in grid balancing services to generate extra revenue.
The entire solar PV and battery storage performance can be monitored through the Tesla App.
He had this to say about us:
"We invested in two Tesla powerwalls, and Spirit Energy fitted them. They did a clean job (even if the scaffolders didn't!) and the system works amazingly well given the weather we've had since Sept 2017. I would definitely use them again."