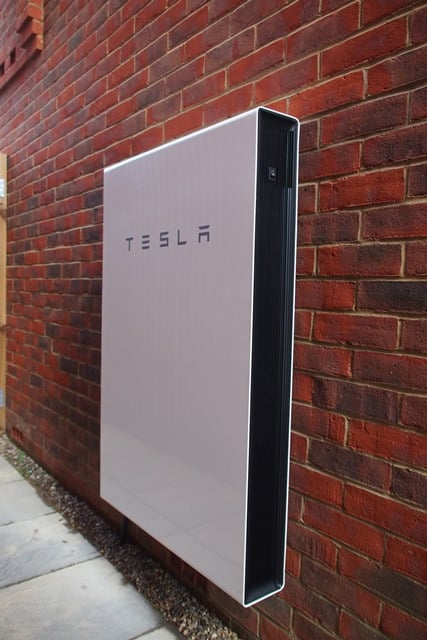 In August 2017, Spirit commissioned another 13.5 kWh Tesla Powerwall 2 together with a 3.9 kWp PV system.
Having just purchased the house, Mr V wanted to add a solar and storage system to his new home and had a preference for the Tesla system which will give him a very high level of autonomy due to its large size. As one of the only systems that can be mounted outisde, Powerwall 2 was the obvious solution due to the limited space inside.
In the winter months, when there is little spare solar energy available, the battery will be able to charge from the grid at off-peak times and in the future even participate in grid balancing services to generate extra revenue.
The entire solar PV and battery storage performance can be monitored through the Tesla App.
He had this to say about us:
"Spirit was recommended as a partner installer by Sharp headquarters after I decided to go off grid with my new built home in Kent. I was pleased with the speed they do their job - whole bunch of small tasks from scaffolding to a working system tests and set up was very fast and accurate. Tesla battery was a great choice to complement solar panels, and in spite of a slight delay on the supplier's site I appreciate the support I received from Solar and the system they installed. I also need to point out that the team had all the necessary tools on hand and left the site absolutely clean and tidy."