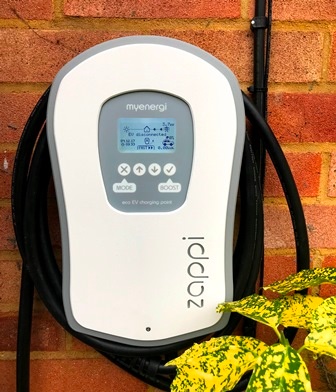 In April 2017, Spirit commissioned a zappi, the intelligent EV charger that optimises the use of excess solar PV. Working in synergy with your PV system, it detects when the PV system is producing more than the base load and diverts the excess electricity to your electric vehicle. Charging can be set to one of three modes and can charge at a maximum power of 7kW. Since it is assumed that 50% of all PV produced is exported back to the grid, it makes sense to utilise this energy and further add to your savings.
As an external, wall mounted system, Spirit inserted an earth rod as part of the install to comply with safety regulations. The installation team also had to negotiate a tricky cable run but managed a swift and successful installation at the delight of the customer, this is what he had to say:
"Can I take this chance to thank you, Mark and the installation team for such prompt and professional service. The zappi charger is working well and seems to be a great product. I would not hesitate to recommend your company."