The electric vehicle boom is imminent. The government recently pledged £400m investment towards EV charging infrastructure as part of its commitment to net zero by 2050. Emission-free number plates are set to turn green to boost driver benefits, awareness and uptake.
We can expect a huge surge in EV chargepoint installations across the UK over the next few years. This will require specialist knowledge - or at least understanding - for installers, builders and businesses.
And that's where we come in. After months of development, we're very proud to announce our new certified CPD course on EV charging systems.
What's in the course?
Introduction to EV Charging Systems will teach you exactly what the name implies. We'll bring you right up to speed with all aspects of the game-changing technology, including:
EV charging basics - chargepoint parameters, rates, connection types and modes.

EV chargepoint functionality - the smart features of domestic and commercial chargers.

Design considerations and DNO permission.

Grants and schemes.

Business charging case study.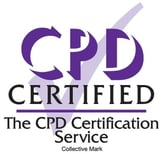 You'll learn up-to-the-minute information from our founder and MD, Erica Charles, based on years of experience in the field. And did we mention the course is CPD certified? Not only great for your professional ability, it'll shine on your CV.
How do you get involved?
The good news is the course only takes an hour, and can be done in your lunch break. The even better news is that we offer it completely free of charge - and we'll come out to your office!
(Unless you're more than 80 miles from Reading, then we might ask for a small contribution to travel costs/car snacks.)
To find out more or book your team in, give us a call on 0118 951 4490 or hit the button below: