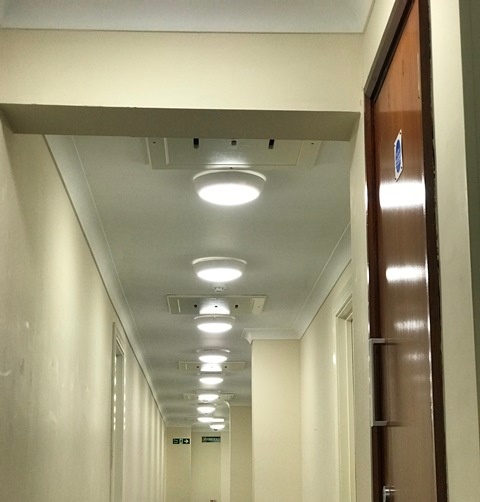 In 2017, a private landlord contracted Spirit to upgrade the lighting in the communal areas of their property in Bishops Court, Slough. This consisted of replacing 46 existing fittings with a range of new LED lights.
Spirit installed a range of new fittings, including 28W bulbs in corridors, 15W 2D Integrated Bulkheads in stairwells and a 30W floodlight for outside the property. PIR sensors were also installed to further increase energy savings.
Overall, the new lighting uses 9,787kWh less electricity per year, representing an 87% reduction in consumption compared to the previous fittings. This equates to annual savings of £4,525, giving a payback time of 3.7 years.
The customer also qualified for Carbon Trust funding, which meant they received 30% of the total project cost as a non-repayable capital contribution.
"A professional company who fulfilled their contractual obligation, in our case due to the age of our building there were a number of unforeseen issues. These issues were professionally absorbed by the company who amended the initial pre agreed plans to ensure that the end result was in compliance with regulation and our requirements. The Spirit Energy team installed the LED lights for our commercial building, which comprised of lighting on 4 interior floors including and the external private car park area. The entire team is professional, friendly and subject matter experts in each of their fields. We took quotes from a number of competitors, but this company stood head and shoulders above rest in terms of knowledge and price. Highly recommend."