By 2020, a business with 100 employees can expect to have 10 employees with an electric car.
Time flies, and guess what, 2020 is only 22 months away... No surprise then that many businesses are making their first foray into the world of electric car chargers to give their customers, staff and fleet the necessary EV charging infrastructure.
As they do so, they are realising that EV charging not only represents an opportunity to make their business a better place to work for employees and boost their CSR credentials, it also provides a potential new revenue stream, albeit a modest one unless installed at scale (see a brief summary of the business case).
The question is, if you want to install EV chargers at work, what functionality should you look for, and which brand should you choose?
Which charger?
We have spent a few weeks looking at the different charger brands, and the different approaches they are taking to building a platform to power the EV market.
We've put together a list of the key things to consider when choosing a commercial EV charger (aside from checking eligibility for the WorkPlace Charging grant), the main ones being as follows:
is a 'dumb' charger suitable? [A 'dumb' charger is essentially a dedicated car charging socket, without monitoring of kWh supplied, remote stop-start etc. The market is already developed enough that you should try to avoid going down this route, but if you do want to keep costs low and install a dumb charger, we recommend you choose an EO Genius charger which allows for the easy addition of intelligence at a later date. You may be prepared to supply electricity for free now, but as the number of electric cars on the roads increases, this is going to become expensive, plus it's only a matter of time before EV charging becomes a taxable benefit and monitoring of the electricity supplied is going to be essential - you don't want to have to rip your chargers out and start again, as we have already seen happening.]
what do you need to monitor - 'charger time' or kWh consumption, and, if kWh, does your charging infrastructure include MID approved kWh meters which you can use as a basis for billing?
what is the upfront cost of installation, not only of the charger, but also any civil works (foundations, cabling etc)?
what subscription fees are there for monitoring, reporting, charger management?
how does invoicing for the user of the charger work, and how does payment settlement work? [Ideally it should all be automated; as the number of users increases, you don't want to be creating a mountain of manual billing, not to mention double entry bookkeeping]
how are the chargers accessed - key, fob, RFID card, online account? [Some sort of access restriction is important - you certainly don't want to find yourself powering the local EV community without some restriction on access.]
if your business provides vehicles which employees take home at night, you may need to provide home charging infrastructure and it's important to understand how charger monitoring, access and reimbursement will work, especially if the same charger is going to be powering other family cars alongside your company car (EVBox's HomeLine is particularly good for this);
is EV charging likely to put a strain on your grid connection? [You don't want to find the lights flickering and the computers going down as the cars guzzle your capacity or push you over your max import limit, with all the associated penalties entailed - if this is likely to happen you should look at suppliers such as EO or EVBox who offer active load management, or you should install a battery and / or apply for a grid upgrade before everyone in your neighbourhood grabs whatever spare grid capacity there may be.]
do the chargers conform to the OCPP (voluntary open charging protocol), allowing drivers to have a single RFID to access all OCPP chargers, thus making it easy for drivers using the chargers?
do aesthetics matter, do you need dual chargers mounted on a single pole, and can you brand the chargers with your company logo?
how scalable is the solution and at what cost - whilst most businesses will want to start small with one or two chargers, and see what gives, the one thing we can be fairly certain of is that electric vehicle take up is growing exponentially, albeit from a low base, and so whatever capacity you install now will probably have to increase tenfold or more over the next few years;
is the charger approved for the WorkPlace grant and what's its warranty (OLEV grants require 3 years)?
Chargers compared
As a result of our investigation, we have produced a charger comparison table on our website, comparing the offerings of EO, EVBox and Rolec:
Charger types
We've also updated our page on charger types, aiming to provide a starting point if you know nothing about electric vehicle charging.
Overall our recommended charger brands for commercial chargers are EVBox and EO. Having evolved in the Netherlands, which is a few years ahead of the UK in EV charging terms, EVBox chargers tick all the boxes. Their system is streamlined and scalable. EO is slightly behind EVBox in the roll-out of commercial functionality, but they do have a good solution for anyone wanting to install a 'dumb charger' that can be upgraded down the line.
Both brands have solutions suitable for domestic use, private commercial use and public networks. What's more their solutions are streamlined, coupling a small number of charger models with 'tiered' intelligence, allowing users to access increasingly sophisticated levels of functionality as required. Further, they are easy to work with, which is an essential when investing in a fast-evolving sector where the need to build a long-term relationship with the charger supplier is paramount.
More on EVBox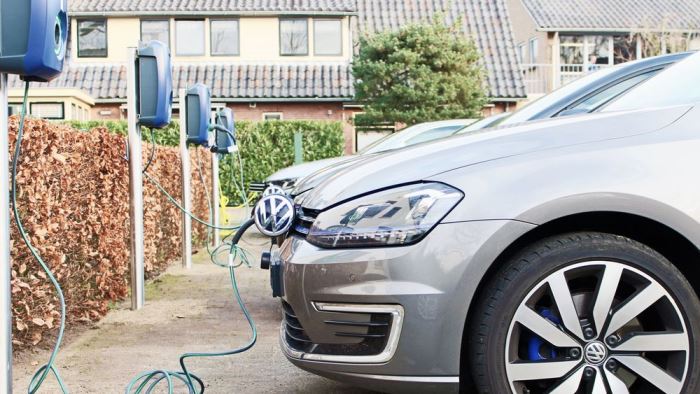 EVBox was founded in the Netherlands, which is a few years ahead of the UK in adoption of electric vehicles. The company has become the sole public supplier of public charging infrastructure in cities such as Amsterdam, Rotterdam and Monaco. EV Box has an installed base of over 50,000 chargers across nearly 1000 cities. The company has recently been bought by energy giant Engie and it is generally regarded as a supplier of high quality products with strong financial backing.
Overall, EVBox has developed superior aesthetics, solutions for leased / business cars (cost reimbursement) as well as 'shared charging' at home where more than one owner is using a single charger.
The main model for businesses is the BusinessLine charger, which is managed by EVBox's BackOffice management system. BackOffice is being upgraded to Everon, which will also allow management of smart chargers by 'other' manufacturers.
The system features automatic tracking and payment software. Chargers can also be configured with various "smart charging" technologies that ensure efficient energy use, and can also support remote maintenance and upgrades. The site manager can can adjust charging rates to prevent peak usage and increase return on investment.
EVBox also provides HomeLine, which offers an excellent solution for businesses installing chargers in domestic properties as part of a leased car scheme, and PublicLine which is aimed at operators of chargers installed for public use.
More on EO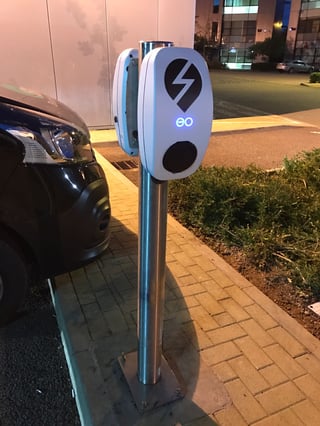 EO has created a beautifully simple, modular and scalable system. The entry level eoMini is a 'dumb' charger providing an easy-to-use and cost effective home charger. The eoBasic range is a 'dumb' charger which comes with a socket or a tethered cable. The eoGenius is a 'dumb but smart-ready' charger to which intelligence (monitoring etc) can be added as required via eoHUB, eoAPP and eoCloud, with a modest (£25 / year) subscription fee per charger, with up to 30 chargers per eoHUB.
EO's software platform, eoCloud, can manage unlimited eoHUBs, enabling online management of all of an operator's EO chargers via a single platform. Key functionality is as follows:
charge point registration;
access restriction to specific individuals;
remote monitoring;
billing and tariff management (set pricing, generate revenue);
link home and work charging to record benefit-in-kind tax;
reserve chargers for guests;
active load management (see below).
Note that at the moment eoCloud captures usage time but not kWh usage. The addition of an MID approved kWh meter will be possible from Q2 2018.
The fact that the intelligence sits outside the charger is one of the key differences between EO and competitor chargers, allowing the installation of a dumb charger, to which intelligence can be 'retrofitted'.
Further, EO is working on vehicle-to-grid charging and on their vision to provide an integrated system combining EV charging with solar, battery storage and other smart devices with the 'smart-grid', enabling users to optimise use of solar PV, and keep grid import costs to a minimum.
Get in touch
For more information call 0118 951 4490, email info@spiritenergy.co.uk or request a quote: