Upgrading to LED lighting typically halves your lighting bill.
If you install lighting controls at the same time (occupancy sensors etc), you can reduce running costs by around 70%, particularly if half your office is empty, but all your lights are on.
Spirit Energy has this week launched an online LED Lighting Calculator to enable you to see very quickly how much energy, and money, you could save, and how long it would take a lighting upgrade to pay for itself.
Where are the easy wins for your organisation?
The biggest 'lighting' savings opportunities for most organisations are as follows:
1. Replace Fluoresecent Tubes (typical in offices, workshops, warehouses)
Replacing standard 4ft, 5ft or 6ft tubes with LED tubes saves a minimum of 50% in running costs. It also reduces maintenance costs since LED tubes have a longer life than fluorescents. Long tubes comes in single fittings and double fittings.
| | |
| --- | --- |
| | |
| Before (fluorescent 58W) | After (LED 22W) |
Tubes may be housed as a set of four in 600mm x 600mm ceiling panels or 1200mm x 600mm ceiling panels. You can replace the whole lot with LED panels:
| | |
| --- | --- |
| | |
| Before (4 x tubes 72W) | After (LED Panel, 30-40W) |
2. Replace Metal Halide 400W or 250W Bulbs (typical in warehouses)
If you run a warehouse or workshop with tall ceilings, you may be familiar with metal halide high bays, typically using a 400W or 250W bulb. You can save 40% to 60% on running costs by replacing them with LED 'corn lamps'. And you won't need to keep hiring the scissor lift to replace the bulbs - the typical lifetime of a corn lamp is 50,000 hours versus 20,000 hours.
| | |
| --- | --- |
| | |
| Before: Metal halide high bay (400W) | After: LED corn lamp (80W - 150W) |
3. Turn the lights off when they are not required (and zone the lighting)
Establishing a culture of turning the lights off when not required is a great starting point. But you don't have to rely on staff commitment to keep the bills down. Two easy wins are:
installing occupancy sensors;

zoning the lighting.
Occupancy sensors
There are two types: absence detectors and presence detectors.
Absence detection
Upon entering the room the person switches on the light as normal, but on leaving the detector switches off the lighting automatically after the time period selected has elapsed. Lights can also be switched off manually.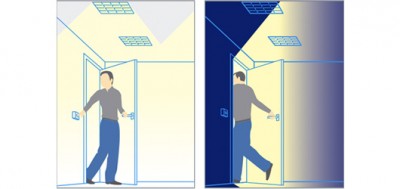 Presence detection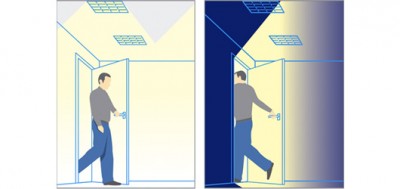 The occupancy sensor switches on lighting automatically when a person enters the room, and switches off lighting automatically when no movement is detected after the specified time period has elapsed.
Zone the lighting
We often carry out lighting surveys in big open plan offices, where half the office is empty but all the lights are on. Banks of desks are unoccupied, yet they are lit like Piccadilly Circus on a Friday night.
What's more, many organisations carve 'meeting rooms' out along the side of big open plan spaces using partition walling, but they don't separate the lighting circuits. And so the lights in the meeting rooms are on, whether or not the rooms are occupied.
It's easy to see how it happens - when creating new rooms, time is of the essence and money is tight, and if accommodation is rented, dilapidations clauses loom. But in the end lack of zoning costs money and wastes electricity.
By installing a couple of extra circuits you can reap big wins. And if you are installing a new lighting system, choose something like a DALI protocol, so that light fittings are individually addressable. That way, you can easily rezone the room if ever you feel like shifting the furniture or moving the partition walls.
Use our calculator, or request a quote
For an idea of how much your organisation could save, try our online calculator:
Alternatively, for more information call 0118 951 4490 or fill out our form with details of your enquiry: