We're thrilled to announce some exciting Tesla news. Spirit has won Tesla's Performance Excellence Award!
This recognises our work installing hundreds of Powerwalls to the exacting standards that enable us to be a Tesla Certified Installer. Much to our delight, the company also highlighted the value of our informative, impartial content in educating people about renewables and energy storage.
Tesla Powerwall: Performance Excellence Award
We have installed over 200 Powerwalls since they first came to market (and should be able to ramp this up once stock levels improve next year) and have been a certified installer since 2016. They are a perennial favourite of our team due to the ease of install and product reliability - not to mention they've become so desirable for many of our clients as the Tesla brand grows.
It's great to be recognised by Tesla for consistently delivering highly rated Powerwall installations and receive the Performance Excellence Award for Q2 2021.
Our Tesla Powerwall Account Manager said we won because of our
"outstanding contribution to Powerwall and energy storage systems in the UK. Your well written blogs and guides have helped educate customers on battery storage that has benefited not only Spirit Energy but the renewable energy industry as a whole."
Mark Golding, Head of Sales, said:
"The team at Tesla is a joy to work with and we're big fans of their products. Powerwalls are always in such high demand from our customers, so we barely have to recommend them. It means a great deal to us for Spirit to be recognised with this award."
Erica Charles, Managing Director, said:
"I am delighted to be able to work with Tesla and to have received their Performance Excellence Award. As the owner of two Powerwalls myself, I have first hand experience of the joy of owning a Tesla battery storage system, and of living, to a great extent, off the grid."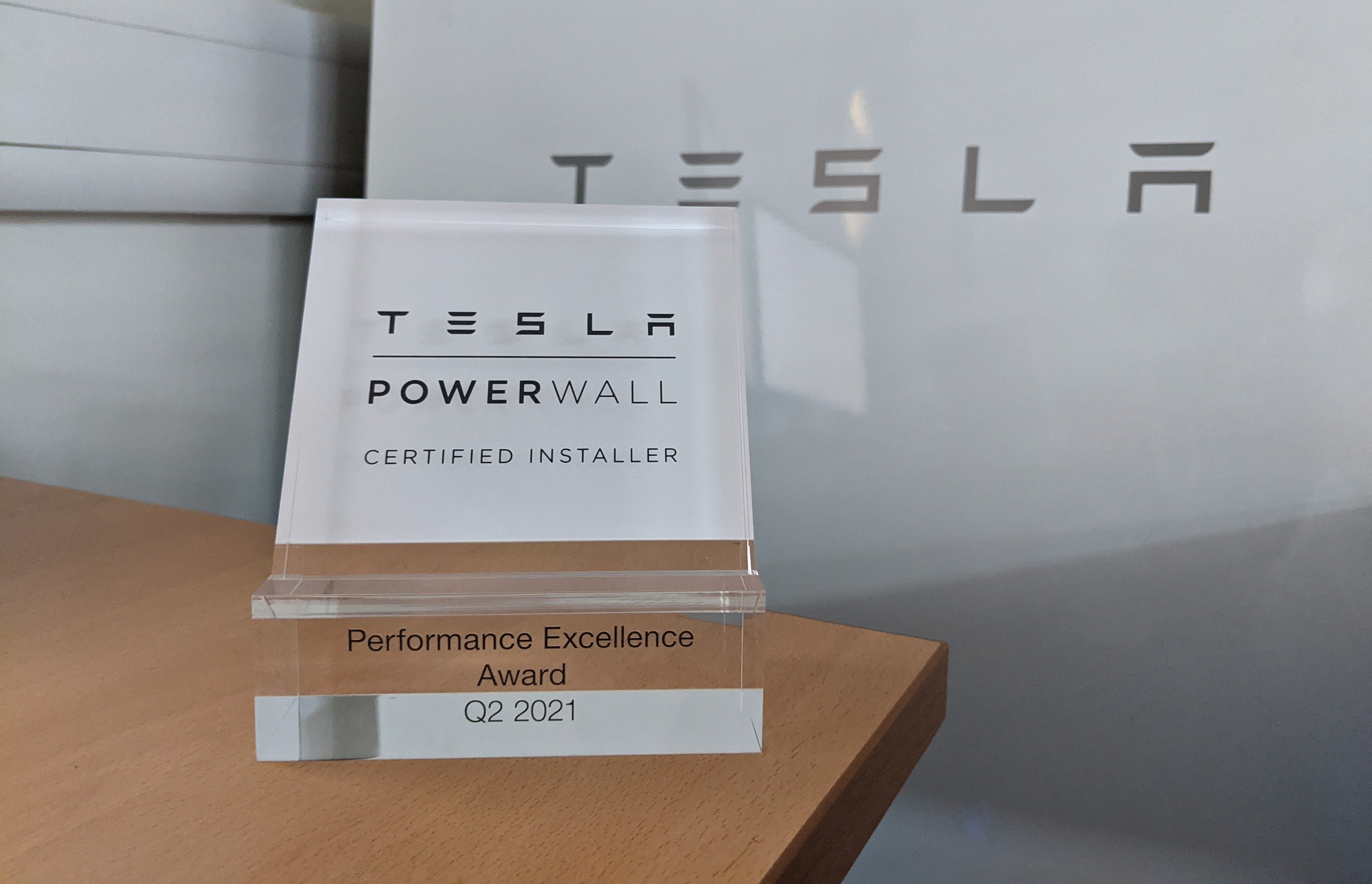 Tesla sustainability
People often question the environmental impact of batteries, so Tesla releases an annual report to provide some transparency on the company's activities. Most of the focus is on Tesla vehicles, but there are a few notable points that should apply to home batteries too:
Tesla battery factories are implementing

closed-loop recycling

for all Tesla batteries, recovering 92% of raw materials.
Tesla deployed 3GWh of energy storage in 2020 and is aiming for 1,500GWh a year by 2030.
The Nevada Gigafactory has a 3,200kWp solar array, which is due to expand to 24,000kWp by the end of next year.
New battery cells will be manufactured with a dry electrode process, which should cut emissions by 70%.
Tesla is enforcing strict requirements on any cobalt sourced from areas at risk of human rights issues, and long term is working to eliminate cobalt from its batteries.
Learn more
Tesla Powerwall is our top recommended battery for most clients. It's an excellent piece of kit with decent capacity, high quality components and sophisticated software. To see how we reached this conclusion (and went on to become a trusted Tesla installer), check out our Powerwall road test:
As well as being recognised by Tesla, we were also very happy to be commended at the recent Energy Efficiency Awards for Best Solar PV Installer and Energy Efficiency Champion in the South East!