Many of our clients desire energy independence, to be insulated against rising bills and polluting power. It's one of the most common reasons for investing in solar PV.
This is why we're always interested in ways to help people use more of the solar power they generate at home, boosting efficiency and saving money. So today we're looking at a device that can turn surplus solar energy into heating for your house - the eddi.
eddi: the power diverter from myenergi
When your solar panels are generating more electricity than you're using at that moment, the excess is exported to the grid. If you're signed up to a SEG tariff (well worth doing), you'll be reimbursed about 15p/kWh for this. Since this is lower than most import costs (about 34p/kWh), it pays to try and use more solar power on site.
A power diverter helps you use excess solar energy by redirecting it from the grid to another purpose, such as heating your hot water tank. The eddi (energy diverter) is myenergi's version of such a device. (Like all the company's products, it's too cool for capital letters.)
As well as being able to intelligently divert excess solar (or wind) to an immersion heater for hot water, the eddi also claims to be able power other types of heating (space, underfloor, pool, towel rail or heat pump). With two heating outputs, eddi can divert power sequentially to multiple destinations upon reaching desired temperatures. The max heater output rating is 3.68kW.
It has an LCD screen to view how much power is being diverted. You can also pair it with the myenergi app to set timers (to cash in on time of use tariffs), boost and monitor. It has fanless cooling and a 3 year warranty.
zappi integration
One of our favourite EV chargers is myenergi's zappi, which pioneered the automated use of excess solar for car charging. The zappi integrates well with eddi - they both connect to the hub for monitoring, and you can choose which device is prioritised for surplus solar. So together they can help you utilise as much energy from your solar panels as possible.
myenergi monitoring
To use the app or desktop portal for remote monitoring of any myenergi devices, you need to install the myenergi hub. It's essential if you want to schedule car charging or hot water diversion at the most cost-efficient times.
For installation of eddi or zappi without wired current transformer (CT) clamps, you can opt for myenergi's wireless harvi (energy harvesting sensor). The harvi connects directly to a CT clamp, drawing its power from here, and transmits a measurement signal to the eddi or zappi.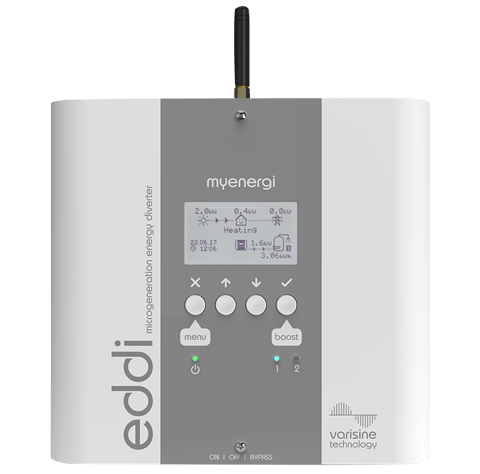 Expected savings
To see how much an eddi might save you, we compare exported solar power with avoided heating cost.
If you have some form of electric heating - immersion, boiler, pool or heat pump - then you can displace the cost to import that power, at an average rate of 34p/kWh. This import cost is much higher than the average export rate of 15p/kWh, effectively saving you 19p per unit.
Should you get a power diverter and a battery?
The eddi is technically compatible with home battery systems like Tesla Powerwall. It's possible to install the technology with set timing, so Powerwall is prioritised over zappi or eddi, for example. But in most houses, the battery's capacity would be sufficient to soak up all your excess solar energy, leaving little to none for the power diverter.
For that reason, we wouldn't generally recommend getting an eddi if you have a Powerwall battery already, unless solar generation far surpasses your usage.
Other power diverters
There are alternative power diverters (also called solar PV optimisers or immersion optimisers) on the market, such as the Solar iBoost and Immersun, or those made by inverter manufacturers Fronius and SolarEdge, which can integrate with existing monitoring. Historically, we've recommended the iBoost, as it's simple to use and cost-effective. The eddi is equally good, and worth considering if you have any other myenergi devices like the zappi.
Find out more about solar panel accessories, or download our beginner's guide to residential PV: