I have been updating our Guide to Building Integrated PV, available as a free download from our website.
Inevitably I had to check out the Tesla UK website for an update on their long-awaited solar roof tiles. And I read this:
Infinite Tile Warranty
Made with tempered glass, Solar Roof tiles are more than three times stronger than standard roofing tiles. That's why we offer the best warranty in the industry - the lifetime of your house, or infinity, whichever comes first. Watch our hail test video to see how we take durability to a whole new level.
CEO Elon Musk apparently put it more bluntly: it's "infinity or when your house falls down."
One wonders how much time Mr Musk has spent studying the history of English architecture, 660AD to present... 660AD being the approximate construction date of one of our oldest surviving buildings, Chapel of St Peter-on-the-Wall, yet to fall down.
OK, so it's not a house, but Saltford Manor House is a house, inhabited since the 12th Century. In the US houses may be built with a 30-50 year time horizon in mind, but in the UK we build to last... Oh to be a fly on the wall when the great great great great great (etc) grandchild makes a claim in 2800 AD.
About the tiles themselves...
Possibly more to the point, the tiles aren't yet available in the UK and their due date is unknown. But there's an enticing video on YouTube showing them in situ on Mr Musk's own house.
And they look absolutely fantastic...
Made of glass, the Tesla solar tiles will utilise invisible solar cells. Matching non-solar tiles will ensure that the range can be used to provide a complete roof covering.
The tiles will be available in four finishes: smooth (pictured above), slate, textured and Tuscan. Measuring 184mm x 365mm, they will be suitable for roofs with a pitch of between 14 and 90 degrees. They will feature market leading fire rating, wind rating and hail rating. Alongside the 'infinite tile warranty' they will also have a 30 year power warranty, a 30 year 'weatherization' warranty.
We'll keep you posted...
What other options are there: roof integrated solar panels and tiles?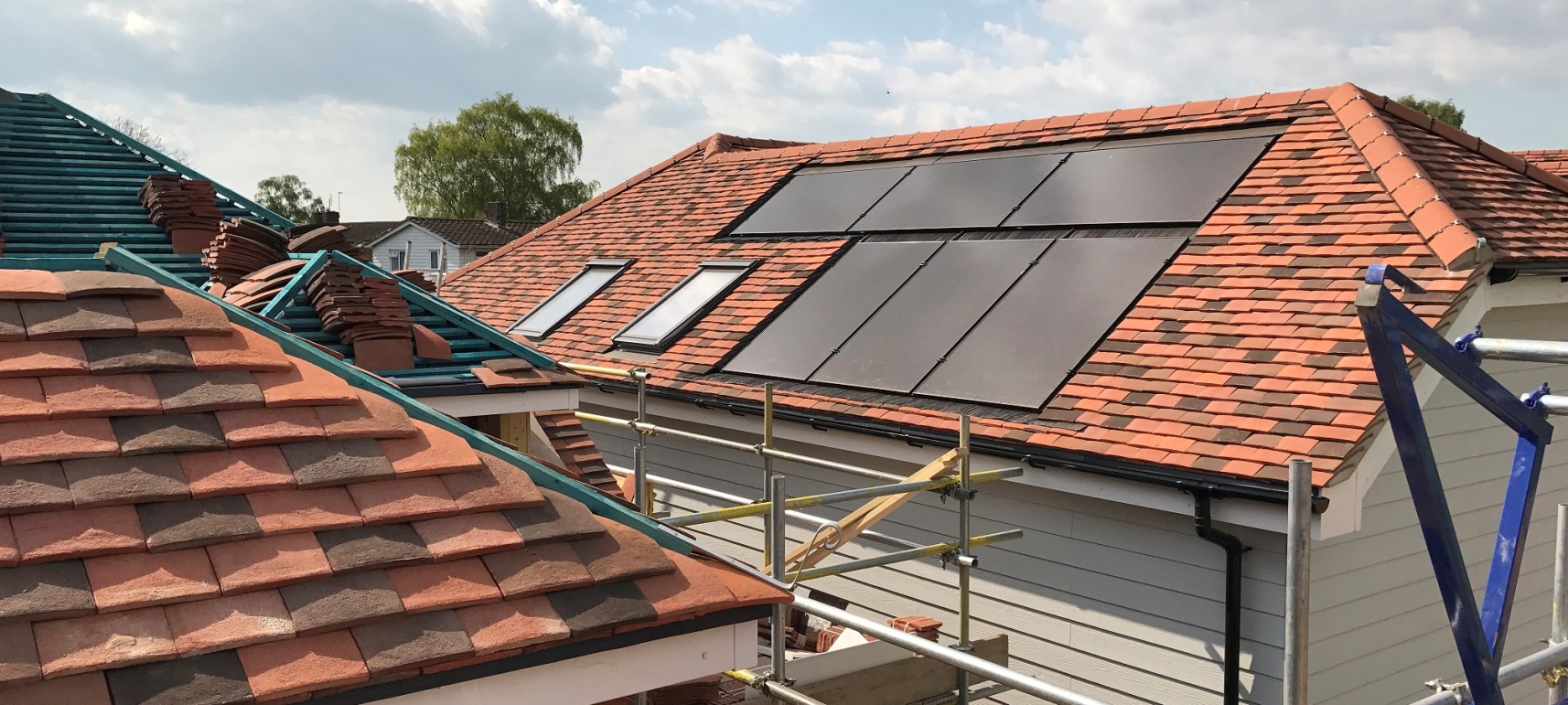 There are a few different roof integrated solar panel products, our favourites being the GSE mounting system (pictured above, installed by us for Millgate (Winchester) Ltd and the Viridian Clearline system (pictured below). For new builds, the GSE system has a similar cost to an on-roof system, and as such is a favourite with several of our commerial housebuilder clients. The Viridian system is arguably better looking, with invisible roof hooks, bespoke sleek panels and automated perfect panel spacing. It also costs a bit more - around £200 per kWp.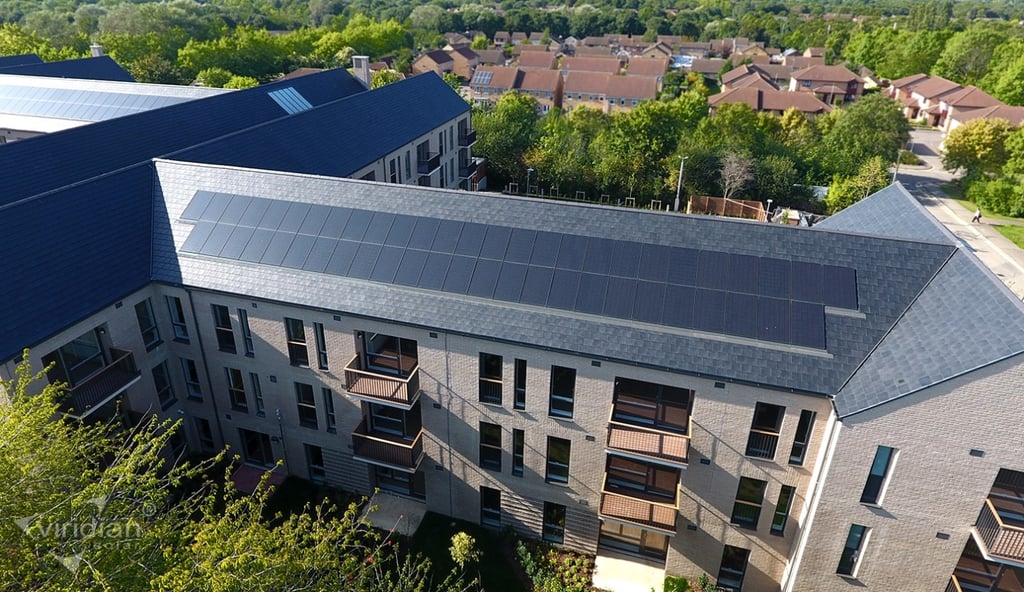 If you are after genuine PV tiles, then have a look at GB-Sol's PV Slates below. PV Slates visually emulates a row of 3 standard 24" x 12" (600 mm x 300 mm) 'Duchess' roofing slates. They are installed using three stainless steel screws through pre-prepared holes along the top edge of the unit and two stainless steel roof hooks at the bottom edge of the slate. They are available in both blue-grey and black, to match different types of slate.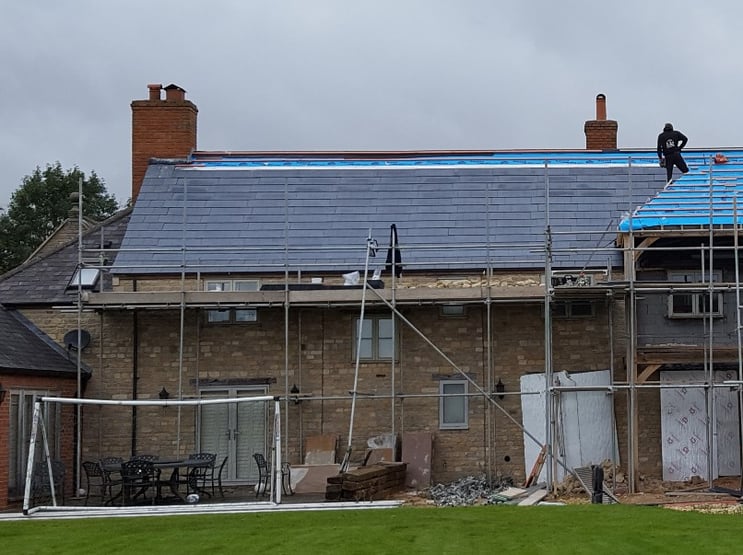 And then of course, there's the complete solar roof, also from GB-Sol, a really good looking system that has been around for over 20 years now... Here's one we installed at Charis Holt.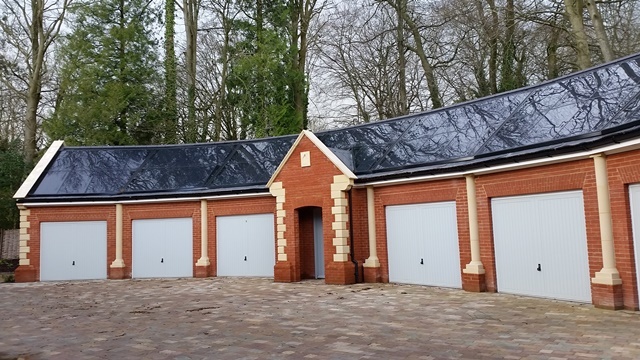 Where can I read more and download product specifications etc?
We have a page on our website dedicated to roof integrated solar panels. Alternatively, for a comprehensive review of Building Integrated Solar PV, download our improved Guide to BIPV:
If it's updates from Tesla that you're after, don't worry we are on the case. We will be the first to let you know when the tiles are finally available in the UK...