Another year has gone by with Tesla roof tiles as popular as ever in the public imagination, yet still mostly intangible. But that could all be about to change. Tesla has announced Solar Roof, the latest iteration of his solar tiles with promises of improved technology and scalability. The company is aiming to ramp up to 1,000 installations a week in America, so what can we expect?
Meet Tesla Solar Roof
The tiles are beautiful, with the photovoltaic elements pretty much invisible, especially from ground level. Once the rooftop is decked out with these, it would be indistinguishable from a regular roof. As a Tesla product, we can expect it to integrate well with Powerwall, the company's world-class home battery.
Specifications
Textured effect glass tile
Height: 15 inches
Length: 45 inches
Roof pitch: 9.5-59°
Leading fire, wind and hail ratings
Tile warranty: 25 years (covers the tile glass)
Power warranty: 25 years (covers the output)
Weatherization warranty: 25 years (covers water leaks)
Note these warranties are only for the US market at the moment.
What's changed in the new version?
For version 3 of its tiles, Tesla briefly rechristened Solar Roof as Solarglass - but now appears to have gone back to the original name. Version 2 never saw a public release as it became too expensive to produce, while version 1 was announced to great anticipation back in 2016.
The new tiles come with a higher energy density, greater size, lower cost, streamlined production and simpler installation. On the downside, there's a reduction in tile warranty from 'infinite' to a slightly more modest 25 years. Power and weatherization warranties have been similarly reduced from 30 to 25 years.
The larger tiles means fewer are needed to cover the roof and the number of electrical components is reduced. This translates to a less complex installation and more competitive price point. Tesla is aiming for an 8 hour install time.
Details on the price are still vague, but Tesla claims it will be less than an equivalent new roof with solar PV.
Apparently this will be the version of the Tesla tiles suitable for mass rollout, though we'll have to hold our breath a little longer to see if or when they make it across the Atlantic…
Are there any other solar tiles?
While we await Solar Roof, it's worth considering other in roof options.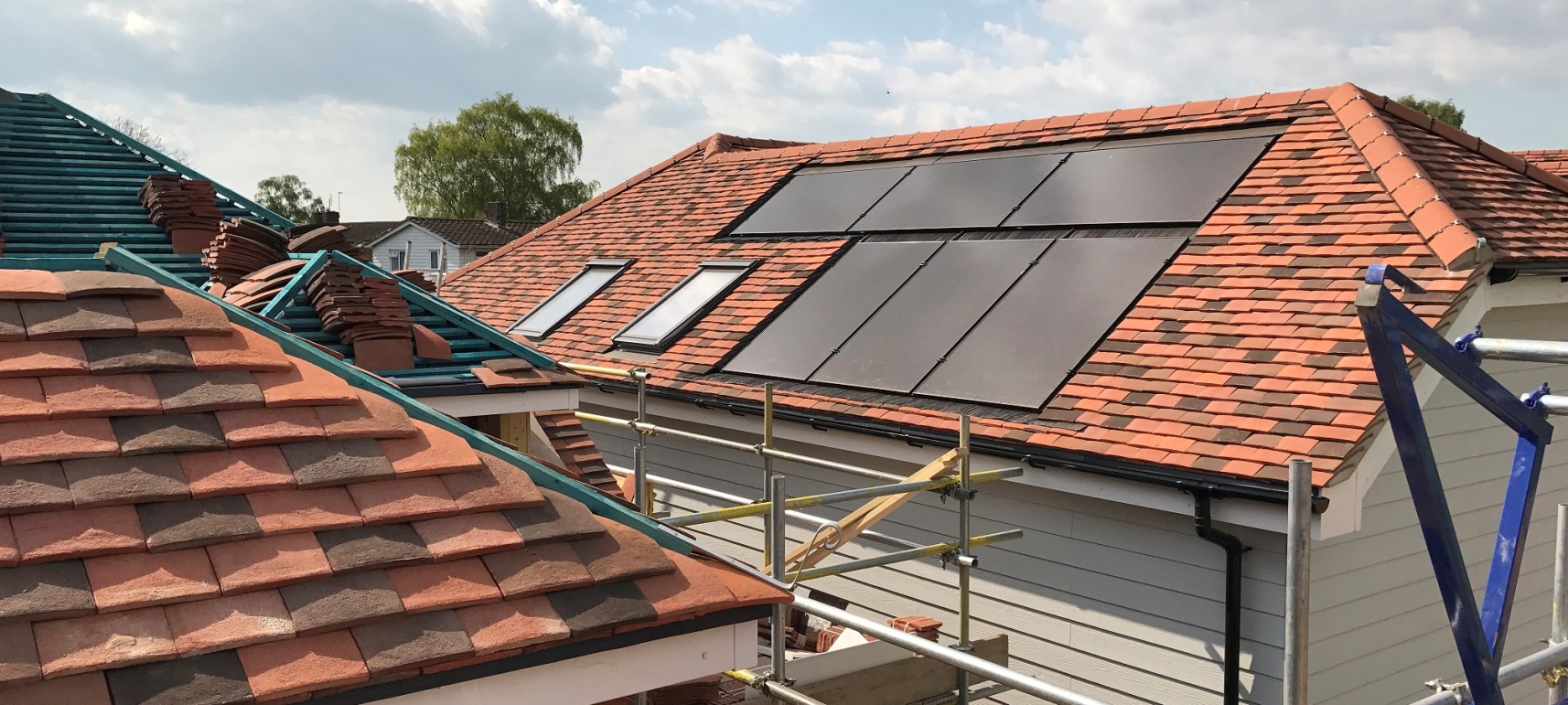 There are a few different roof integrated solar panel products, our favourites being the GSE mounting system (pictured above, installed by us for Millgate (Winchester) Ltd and the Viridian Clearline system (pictured below). For new builds, the GSE system has a similar cost to an on-roof system, and as such is a favourite with several of our commerial housebuilder clients. The Viridian system is arguably better looking, with invisible roof hooks, bespoke sleek panels and automated perfect panel spacing. It also costs a bit more - around £200 per kWp.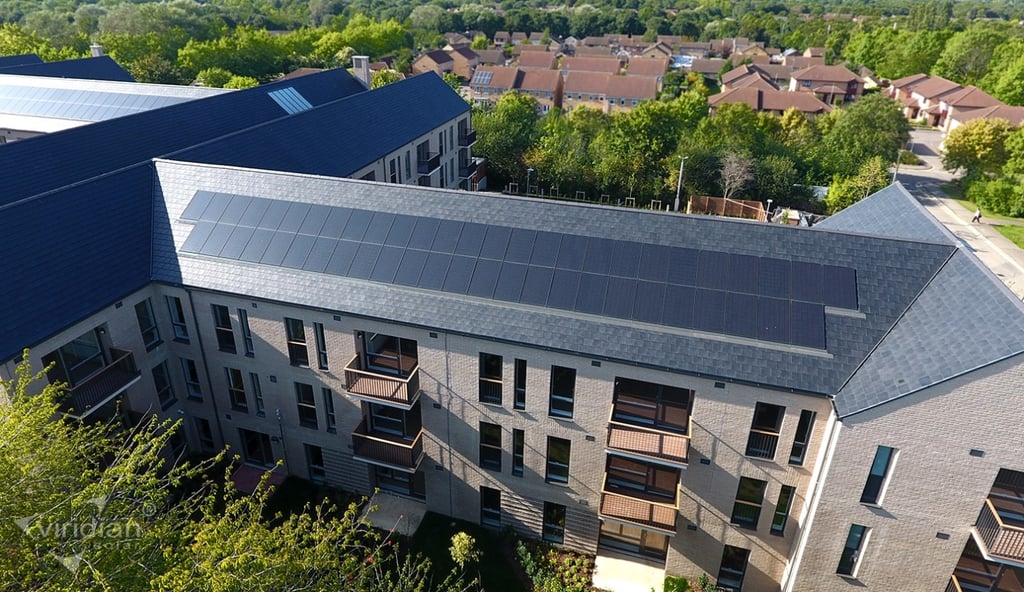 If you are after genuine PV tiles, then have a look at GB-Sol's PV Slates below. PV Slates visually emulates a row of 3 standard 24" x 12" (600 mm x 300 mm) 'Duchess' roofing slates. They are installed using three stainless steel screws through pre-prepared holes along the top edge of the unit and two stainless steel roof hooks at the bottom edge of the slate. They are available in both blue-grey and black, to match different types of slate.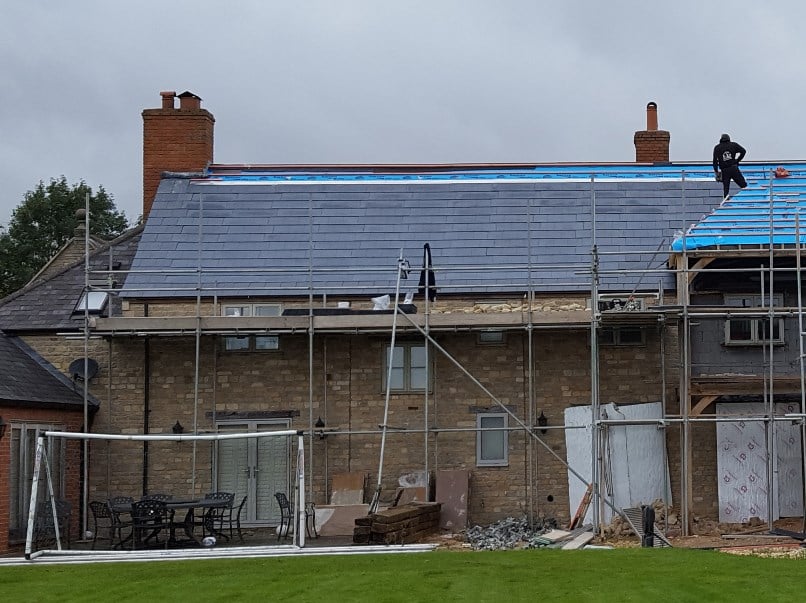 And then of course, there's the complete solar roof, also from GB-Sol, a really good looking system that has been around for over 20 years now... Here's one we installed at Charis Holt.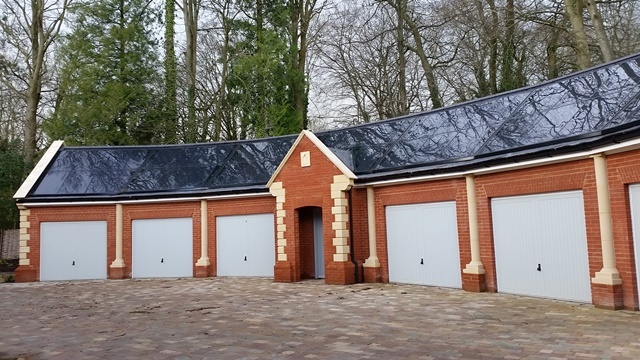 Where can I read more and download product specifications etc?
We have a page dedicated to roof integrated solar panels. Alternatively, for a comprehensive review of building integrated solar PV, download our improved Guide to BIPV:
If it's updates from Tesla that you're after, we are on the case. We will be the first to let you know when the tiles are finally available in the UK...