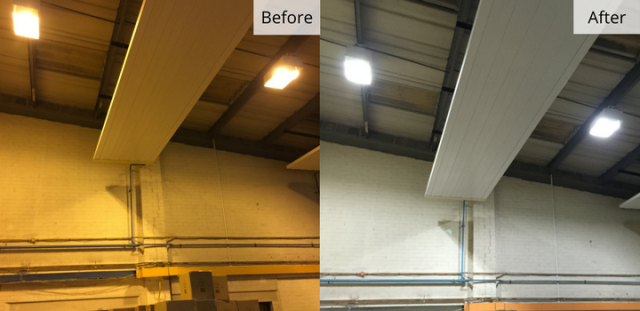 In July 2016, Meika Ltd contracted Spirit Solar Ltd to install LED lights in its office and warehouse complex in Reading, replacing 125 existing light fittings and bulbs.

The new fittings range from 600mm x 600mm panels in the office and meeting rooms to 80W LED Corn lamps and 5ft tubes in the warehouse.

Energy use will be reduced by up to 65%, with a total annual reduction in electricity use of just under 15,000kWh. The annual savings in running costs and replacement bulb costs will be £1,765+VAT; the project has a 3 year payback.

The installation will also improve lighting quality and reduce the need for maintenance of the lights. For example the panels give 35,000 hours service, which is 20 times the expected life of the existing fittings.