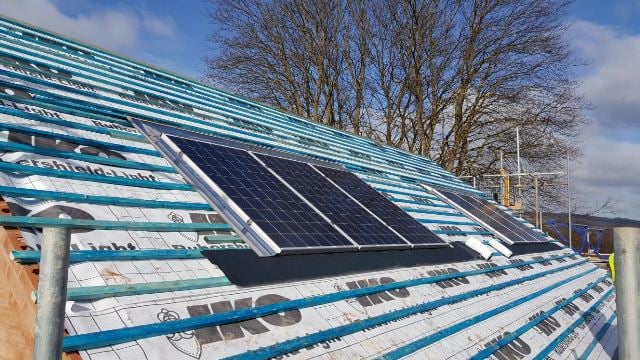 In 2015/2016 Spirit Solar installed solar panels on 34 new-build plots, and 5 apartment blocks for Taylor Wimpey in Leybourne Grange, Kent. The plots had 3 panels on each roof, whilst the apartments ranged from 9 to 21 panels on each block. These all contributed to a total of 183 Shinetime 250W panels.

These installations used a roof-integrated mounting system to fix the panels so they were completely flush with the roof. The panels are in place of the tiles that would normally be there while remaining completely weather-proof.

Installation took place around the building schedule, with two plots being installed per day. The systems were commissioned with minimal disruption to the ongoing works.

These PV systems are eligible for both the feed-in and export tariffs from which the residents will benefit. This, along with electricity savings, leads to total estimated income and savings of £5,000 per year.