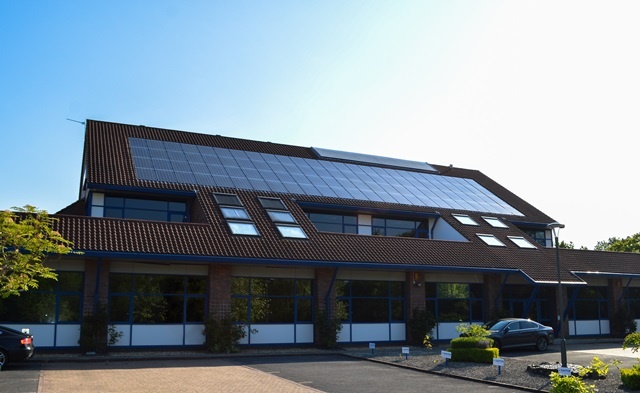 Sauter Automation Ltd was looking to cut its energy bills via the use of solar PV. After contacting Spirit, Sauter received our usual indicative desktop survey followed by a sales visit to firm up our design and price. At this point our proposal was to install an on-roof system, with the panels mounted above the roof tiles on rails fixed to the roof structure. Upon further inspection by our head installer, however, we found that the roof incorporated a metal tin structure and therefore had no rafters on which to mount the brackets required for an on-roof system...
To navigate this issue Spirit proposed an in-roof system allowing the mounting to be directly secured to the tin roof. To ensure that the structural integrity of the roof was maintained, load calculations were taken and full technical and structural surveys were carried out.
The generous roof size allowed for a 30kWp installation and the system is expected to produce 29,550kWh per annum giving an attractive 6 year pay back time with net lifetime benefits and savings expected to exceed £120,000. The client was also interested in protecting their investment in the long run and so expressed interest in SolarEdge inverters, a technology highly recommended by Spirit. SolarEdge power optimisers generally give a 2-3% greater yield in the first year, increasing over the lifetime of the system as panel degradation becomes more prevalent. Sauter can also benefit from SolarEdge panel-level monitoring, giving them real-time feedback to allow faults in the system to be diagnosed immediately - this reduces the need to have periodic inspections, further adding to their savings.
Sauter had the following to say about their experience:
"We're very pleased with our installation, which was installed with minimal disruption at a competitive price. The system appears to be performing well in line with Spirit Solar's estimates. SolarEdge allows us to easily monitor the systems day to day output."