The electric car revolution is well underway and many people in the UK are now taking delivery of their Tesla Model 3. But have you considered how you'll be charging your new vehicle? What's the best EV charger for Tesla cars?
Do you need a chargepoint at home?
New Teslas come with a Mobile Connector, a cable with an adaptor to charge from a regular domestic plug socket. But this trickle charging really is a trickle - you'll get about 6-8 miles of range an hour.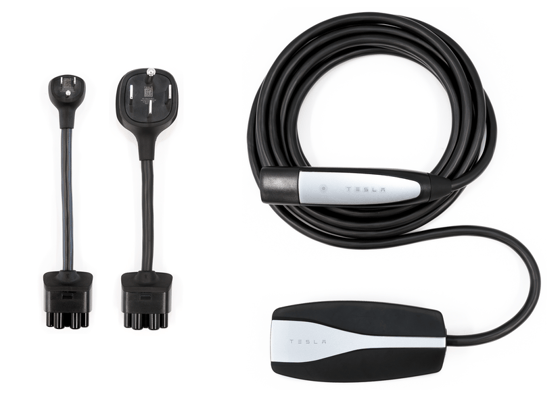 Of course, Tesla has a national network of chargepoints that's expanding all the time. You can use the Supercharger Network at service stations, topping up the battery in about half an hour. More and more public chargepoints are popping up too, which you can use with your universal Type 2 cable, but often they'll cost more than your home electricity.
So we'd recommend investing in a specialist EV chargepoint for your car at home. It's safer, easier to use and offers much faster charging than a regular socket (about 3 times faster). With a reduced charge time, you will also be able to take advantage of the off-peak overnight slots many electricity suppliers provide.
If you have solar PV and Powerwall as well as a Tesla car, it's worth considering the Tesla Energy Plan from Octopus.
Introducing Tesla's charger
Tesla's own charger is a stylish unit called the Wall Connector. The highlights:
It comes with a built-in tethered cable (2.5 or 7.5m).

It can charge your car from 0 to 80% in 8 hours.

It's suitable for indoor or outdoor placement.

It costs £460 + installation.

It can charge other brands of EV with a Type 2 connection.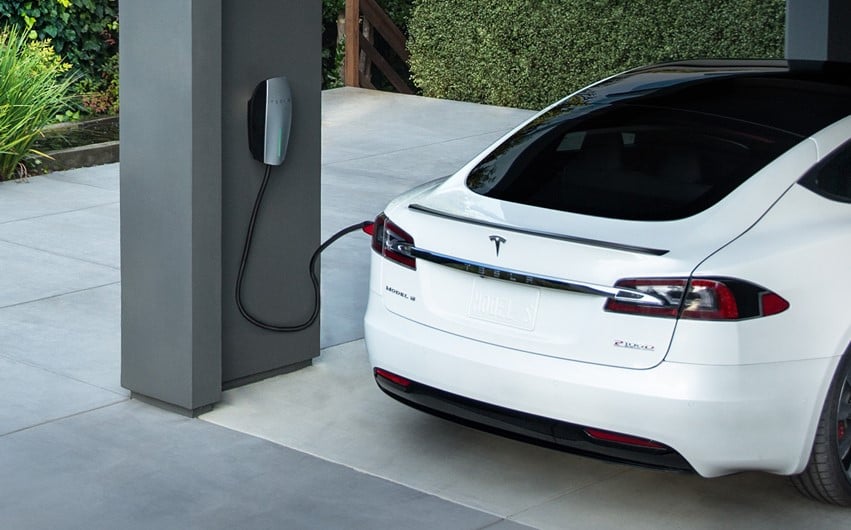 The chargepoint itself must be bought directly through the Tesla Portal by Tesla customers. The total cost including our install fee is between £900 and £1,150, depending on the installation complexity (cable runs etc).
On the downside, because it's not a smart charger, it's not eligible for the £350 OZEV grant. But with Tesla, you don't need additional internet features from the charger, as you can already monitor and control charging from your car and Tesla app.
So while the Tesla branded chargepoint is a good choice, there are other options if you'd like to save money or maximise usage of solar power…
Other domestic EV chargers
There are a growing number of EV charger brands on the market. The most popular are EO, EVBox and Rolec. If you also have (or are thinking about) a solar PV system, then we'd recommend myEnergi's zappi.
The zappi is perhaps the most intelligent charger in this case because it can divert excess solar power to charge your car, or top up from the grid with the functionality of a regular smart charger. It costs about £1,395 fully installed (depending on cabling requirements).
Intelligent domestic chargers from EO and EVBox typically allow you to monitor charger time or kWh consumption (ideal if you need to get reimbursement from your grown-up kids or your employer). They may also include a MID approved kWh meter, increasingly necessary where reimbursement is involved.
Here's a quick comparison between the Wall Connector and two other chargers:
| | | | |
| --- | --- | --- | --- |
| Charger model | Tesla Wall Connector | zappi | EO Mini Pro |
| Design | | | |
| Connection | Type 2 tethered | Type 2 tethered or universal socket | Type 1 or 2 tethered or universal socket |
| Max charging speed | 7kW / 22kW | 7kW / 22kW | 3.6kW / 7.2kW |
| Average installed price (*including OZEV grant) | £900 - £1,150 | £1,395* | £1,395* |
| Best for | Tesla fans | Optimising usage of solar PV | Discreet charger |
For more detail, take a look at our domestic charger comparison. Any with a universal Type 2 connector will be suitable for your Tesla and are certainly worth considering.
Overall the Tesla charger is probably the right choice if you know you will always drive a Tesla. However if you have a solar PV system, or you expect at some point to drive a different make of car, and want some of the features of smart chargers (not to mention the OZEV grant), then it's worth looking at other brands.
How long does it take to get a charger installed?
We regularly get calls from customers on the day their new car arrives, keen to get a chargepoint installed right away. Unfortunately, it's not going to happen instantly.
Once you place an order, we have to apply to the national grid for permission to connect the chargepoint. They must check that your supply can handle the additional load - and in most cases we can install without any concern. This can take up to 10 working days to be granted. Once this has been confirmed we will book an installation date to suit you, and most installations are completed within a few hours. So overall, allow around two to three weeks to get your charger installed.
If you'd like to get a free quote or advice on which charger is best for you, please complete our online form: