If you're looking to maximise the value of the surplus energy generated by your PV system, diverting this to EV charging makes sense from both an economic and environmental perspective.
But how do you go about doing this, and which are the best devices on the market that make it possible? We've compared two solar car chargers, both of which aim to optimise the use of surplus solar energy to charge an electric vehicle - myenergi's zappi and Rolec's WallPod EV SolarCharge.
myenergi develops products to maximise self-consumption of solar electricity and other on site renewable energy generation; their car charger is called zappi. It optimises EV charging to use surplus solar energy when it's available, dynamically adjusting the car charging power based on generation, household consumption and the mode chosen.
Rolec is one of the leading car charger manufacturers, offering a raft of charging options. EV SolarCharge is the latest edition to the Rolec charging range; it is specifically aimed at customers with PV systems to enable them to make use of surplus solar generation. SolarCharge follows the same design as Rolec's standard WallPod, but with the added ability to monitor and respond to solar generation.
Charging modes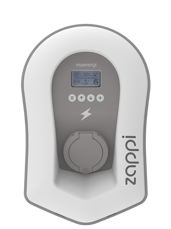 The zappi has 3 charging modes:
ECO - Charging continues at a minimum rate of 1.4kW (whether from PV or grid) until the vehicle is fully charged, but power is adjusted depending on PV generation and power consumption in the home. When there is surplus solar energy available, the power input will increase.
ECO+ - As with ECO mode, the power is adjusted based on PV generation and power consumption elsewhere in the home. But charging is paused if power drawn from the grid reaches a set threshold and only resumed once there is enough surplus solar energy.
FAST - The vehicle is charged at maximum power, just like a regular Mode 3 charging point. You'll draw power from the grid, but this may be essential for an emergency charge.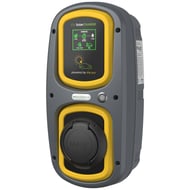 The Rolec WallPod EV SolarCharge has 2 charging modes:
Solar + Grid - The car is charged at the maximum power of 3.6 or 7.2kW, with any shortfall in solar energy topped up with power from the grid.
Solar Only - The device monitors the power generated by the PV system and limits the charge provided to the EV to match this.
Comparison table
| | | |
| --- | --- | --- |
| Charger | zappi | Rolec WallPod EV SolarCharge |
| Rated power | 7kW (1-ph) or 22kW (3-ph) | 3.6kW or 7.2kW |
| Rated supply voltage | 230V AC (1-ph) or 400V AC (3-ph) | 230V AC |
| Supply frequency | 50Hz | 50Hz |
| Rated current | 32A max | 16A or 32A |
| Display | Graphical backlit LCD | Backlit colour 2.4" LCD |
| Connector type | Type 2 tethered cable (6.5m) or Type 2 socket with locking system | Type 1 or 2 tethered cable (5m), or Type 2 socket |
| Warranty | 3 years | Standard is 1 year, unless installed under OLEV scheme, in which case 3 years |
| Average installed price (including VAT, after deduction of £500 OLEV grant) | £950 | £900 |
Please see our complete guides on zappi and Rolec for more information on these products.
Which should you choose, zappi or SolarCharge?
With zappi, you'll benefit from a more stylish design, longer cable (with tethered options) and more control through the usage modes.
The zappi's ECO mode is more favourable to utilising PV power, as it charges at the minimum rate unless boosted by surplus solar. In contrast, the Rolec's Solar + Grid mode charges at the maximum rate, regardless of whether or not this draws from excess solar or the grid. Consequently, this could prove more expensive depending on the time of day and solar output when the car is being charged.
The benefits of the Rolec charger are that it offers a slightly cheaper way to cash in on your excess solar output, with similar features, and the option of a Type 1 tethered connector.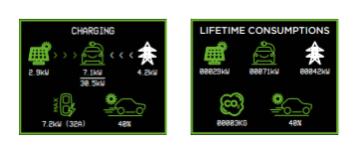 In terms of monitoring performance, with the Rolec you're limited to the device screen, which gives a summary of power coming from PV vs grid and CO2 saved. With the zappi, you can monitor and control the device remotely via an app if you're using the myenergi hub, which is another point in its favour.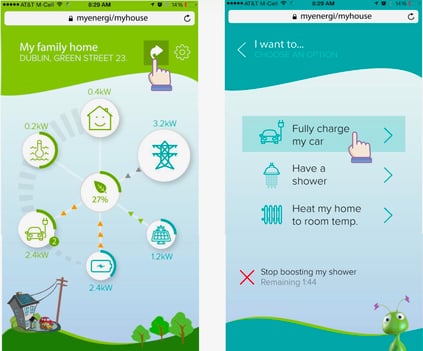 Finally, if you're after fast EV charging in a commercial premises, then the 22kW zappi is the one to go for.

Request a quote
If you'd like a quote for installing an EV charge point (or anything else...) email us on info@spiritenergy.co.uk, call us on 0118 951 4490, or click here to fill in our online form: