Yesterday I had my own modest version of a Victor Kiam moment.
If you are too young to remember Mr Kiam, spend 30 seconds watching this… Mr Kiam's famous line 'I loved the shaver so much I bought the company' was the cornerstone of a hugely successful 1979 advertising campaign.
Mr Kiam was swept away by the joy of a sharp shave. For me it was Tesla and the sheer passion with which they are pursuing their mission 'to accelerate the world's transition to sustainable energy'.
So well -articulated was this vision by Jerry Hamilton at yesterday's 2019 Tesla Installer Conference, that by the coffee break I had bought a reasonable tranche of Tesla Inc shares.
According to Markets Insider, Tesla is a 'battleground' stock.

The last five year share price ride (shown above) has been a good one. The last 12 months? A bit rockier:

The share price is down on where it started in fact, but with the Model 3 on its way, driverless trucks delivering cars all over the US, a third battery gigafactory breaking ground in Shanghai, and the beautiful Gateway 2 docking in the UK, it's hard not to want to jump on the bandwagon. And back the vision.
Because you only live once.
And of course the five year graph of the Centrica share price tells its own story about the battleground that is the energy revolution:

Gateway 2
Back at the ranch in Spirit, sales of the new Powerwall Gateway 2 are building momentum. Gateway 2 looks fantastic. Beautiful glass finish, interestingly same finish as the Palladiom lighting key pads brought out a couple of years ago by Lutron, home of the best lighting control systems founded by Joel Spiro, inventor of the rotary dimmer.
Power cut protection
For fun, Tesla has spent some time tracking the number of power cuts we've had within a 10-20 mile radius of our office in Reading (RG30 1EA).
474 blackout incidences occurred within 10 miles of us within the last 8 months (a blackout incident being a DNO reported incident covering multiple dwellings).
And five power cuts lasted over 29 hours within 20 miles of us:
| | | |
| --- | --- | --- |
| Post code | Reported date / time | Power cut length |
| RG5 4 | 3rd July 2018 | 29 hours |
| RG31 5 | 18th Feb 2019 | 28 hours |
| RG40 4 | 14th Mar 2019 | 28 hours |
| RG5 3 | 6th July 2018 | 28 hours |
| RG6 5 | 30th July 2018 | 29 hours |
The picture is similar across England, certainly in the south.
Once every week or so, I run CPD training on battery storage for Mechanical and Electrical (M&E) designers at various engineering companies across the south of England. As we roll out electric vehicles and simultaneously shut down our coal-fired power stations, they are pretty much unanimous in their expectation that we will see more and more of this.
Overcoming grid constraints
These same M&E designers are starting to find that some of the bigger rural 'Grand Design' houses they are working on are having difficulty getting a grid connection of a sufficient size to run all of the loads they want to run.
Batteries are the perfect way around this – import excess electricity at night (cheap of course) and then use the batteries to ramp up the power available when it's needed during the day.
With Powerwall 2 you can have up to 10 Powerwalls on a three phase supply, so that's an extra 50kW of power.
And helpfully where space is limited, Powerwalls are now 'stackable':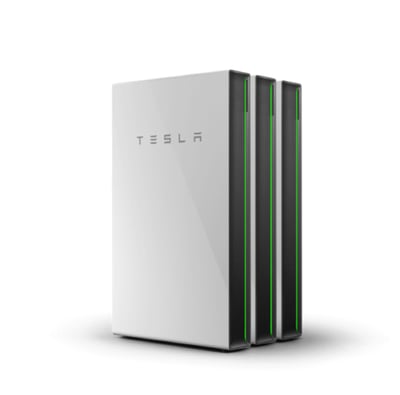 Other news
1. Aggregation and control platform
Last week I wrote about grid services tariffs.
Powerwall 2 has the ability to launch a Tesla Aggregation and Control Platform. However, unlike Social Energy, Tesla doesn't feel the UK is ready for domestic grid service tariffs, the key issue being that the National Grid contracts for aggregation aren't long enough to guarantee the grid service element will be around for more than a year. So Tesla is majoring on self-use of excess solar, time-of-use charging, and backup.
2. Solar tiles
Solar tiles are coming of age (aka going crazy) in the US, where roofs are built to last for 25-30 years. The tiles look fantastic. But as discussed last year, in this country we build for millennia. So more testing required to ensure the tiles are suitable for UK roofs.
For the UK, it's looking like a 2020 product, Tesla time.
And a bottle of champagne for Spirit
The picture above shows Henry (second from left) having accepted a bottle of champagne from Jerry Hamilton and Chris Penders of Tesla because Spirit Energy won a prize as one of three 'Best Quality Certified Tesla Installs'.
In case you are wandering, I bought the shares before I found out that we had won the bottle of champagne.
And no, I am absolutely not qualified to give investment advice.
Request a quote
If you'd like a quote for installing a Powerwall 2 (or anything else...) email us on info@spiritenergy.co.uk, call us on 0118 951 4490, or click here to fill in our online form: