Our clients are often keen to see what happens during the installation process ahead of time. As the proud recipient of Tesla's Performance Excellence award, we're delighted to pull back the curtain and give you a behind-the-scenes look at a recent Tesla Powerwall installation.
Thanks to Mr G for letting us showcase his installation and providing quotes for this article.
What is Powerwall?
Powerwall is the residential battery from electric car maker Tesla. It forms part of the company's mission to 'accelerate the world's transition to sustainable energy' by helping homeowners run their houses on solar power more of the time.
We often recommend Powerwall as it's a very well made product with specs to meet most homeowners' needs. It has a usable capacity of 13.5kWh, up to 5kW discharge rate, and a comprehensive 10 year warranty. As well as storing solar generation, you can schedule off-peak charging from the grid to save money, and it can provide backup in a power cut.
This was one of the main reasons Mr G wanted a battery. As he said, "In the middle of a cold snap we experienced a power cut. Although this did not last very long, it reminded me of the advantages of having a backup supply available; I therefore began the process of getting a Powerwall installed."
System components
The Tesla Powerwall system is made up of two components that we have to install: the main battery unit and the gateway. The main unit contains the battery and the inverter/charger. The gateway monitors energy flow through the house to tell the battery when to charge or discharge.
"Powerwall is also very neat and slimline, so it fits conveniently down the side of the garage, without blocking the car or anything else," Mr G said.
Supply and installation of Powerwall currently costs about £7350 + VAT.
Installation day
Powerwall can take up to a day for a team of two of our technicians to install. The gateway needs to be fitted by your electricity meter and the battery unit should be close by if possible. Both are suitable for outdoor mounting, but in a garage is preferable.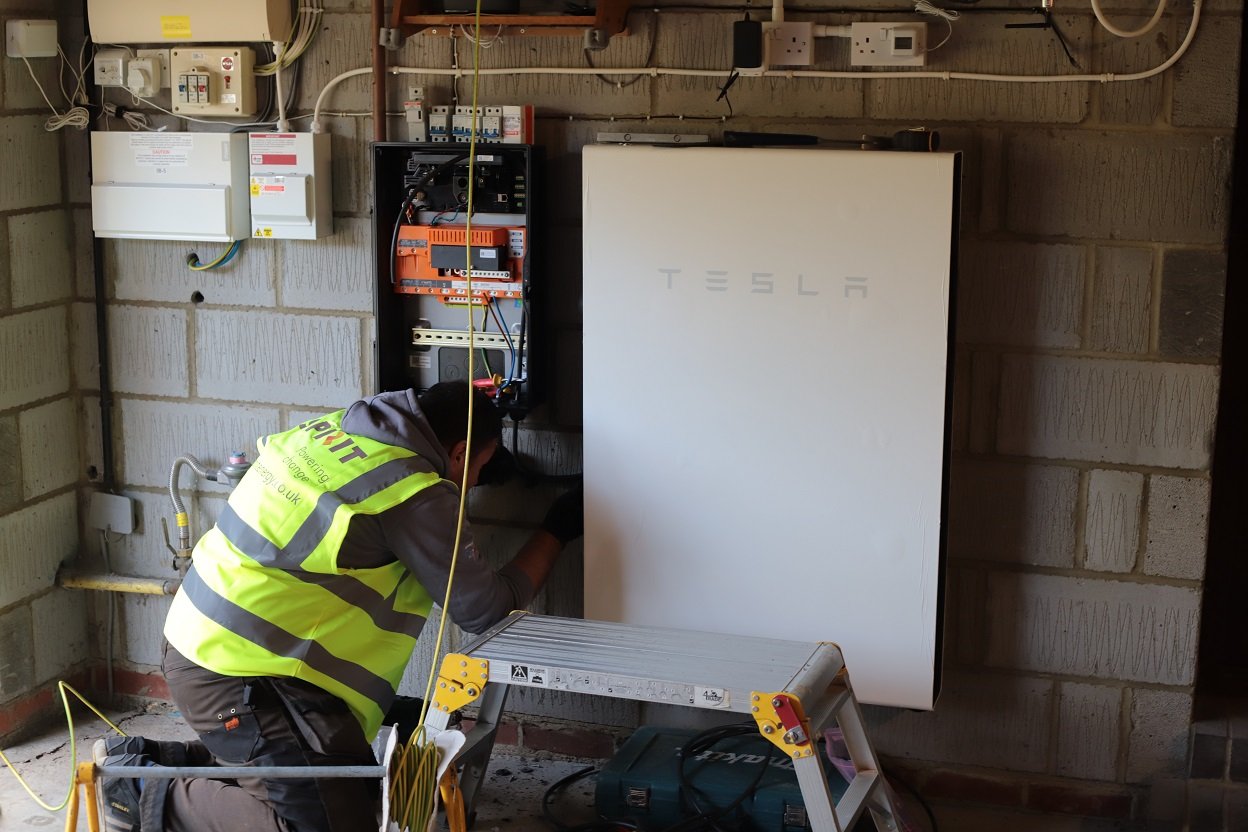 Our installers start by mounting the large battery unit, which can go on a wall or the floor, and the gateway casing. Then they wire up everything through the gateway, connecting it to your meter, fuseboard, solar PV and internet.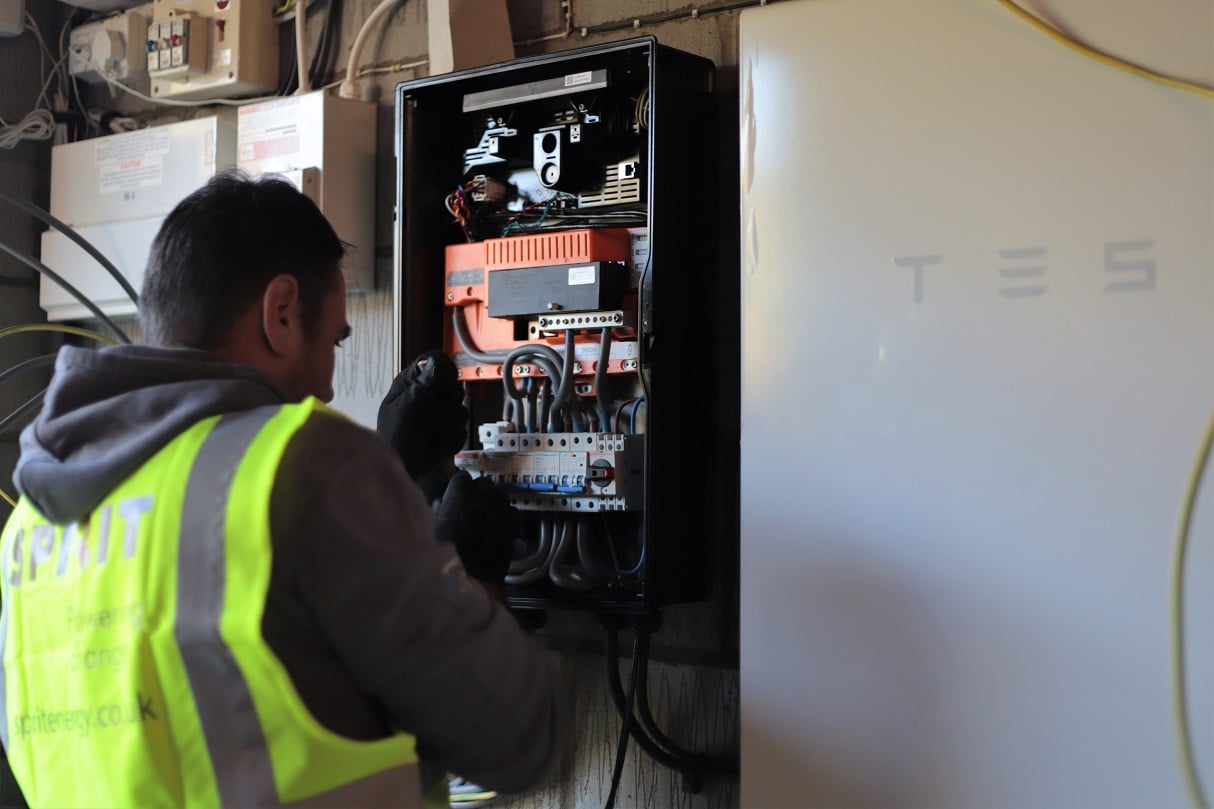 "From my perspective, installation was very straightforward," Mr G said. "The team arrived at 8:00am and after confirming the agreed position for the Powerwall and the new earth terminal, they got started immediately. They were pleasant and efficient, so we left them to it in the garage. There was really very little disruption apart from some drilling noises and a couple of short interruptions to the power supply (which were agreed in advance). They finished the installation soon after midday and after clearing up they gave me an outline of how things worked. Then they were gone! Since then, I am pleased to report, everything has worked perfectly."
Powerwall monitoring
One of the best things about Tesla is the monitoring you get with Powerwall. In the app, you can see real time and historical performance data, and set schedules for off-peak charging.
If you're around during installation, our installer will invite you to connect Powerwall to your Tesla account (which you can set up in advance). Otherwise, you'll need to follow a self-registration process later. You can find out more details on this and other points in our Powerwall FAQs.
"Powerwall is really very unobtrusive, both in the physical sense and in terms of its operation," Mr G said. "However, if (like me) you want to know what it is doing, there is plenty of data available from the app. Obviously the intention of the system (aside from backup) is to optimise the use of solar energy on site. This is done by the Tesla software on a continuous basis, without the need for intervention (unless you want to change something). However, I find that now – if I want it – I have for the first time got ready access to a clear explanation of where the energy used/generated by this house is coming from/going to on an hour by hour basis. It is already obvious from these data that a lot of PV energy which we could not have utilised previously - prior to the installation of a Powerwall - is now being stored and fed back to the house on demand. This is obviously going to have an impact on our electricity bills! Of course I also know that our electricity supply is backed up by the Powerwall, although so far there have not been any power cuts to overcome. Nevertheless, I am sure that in the coming months and years there are bound to be opportunities to benefit from this feature."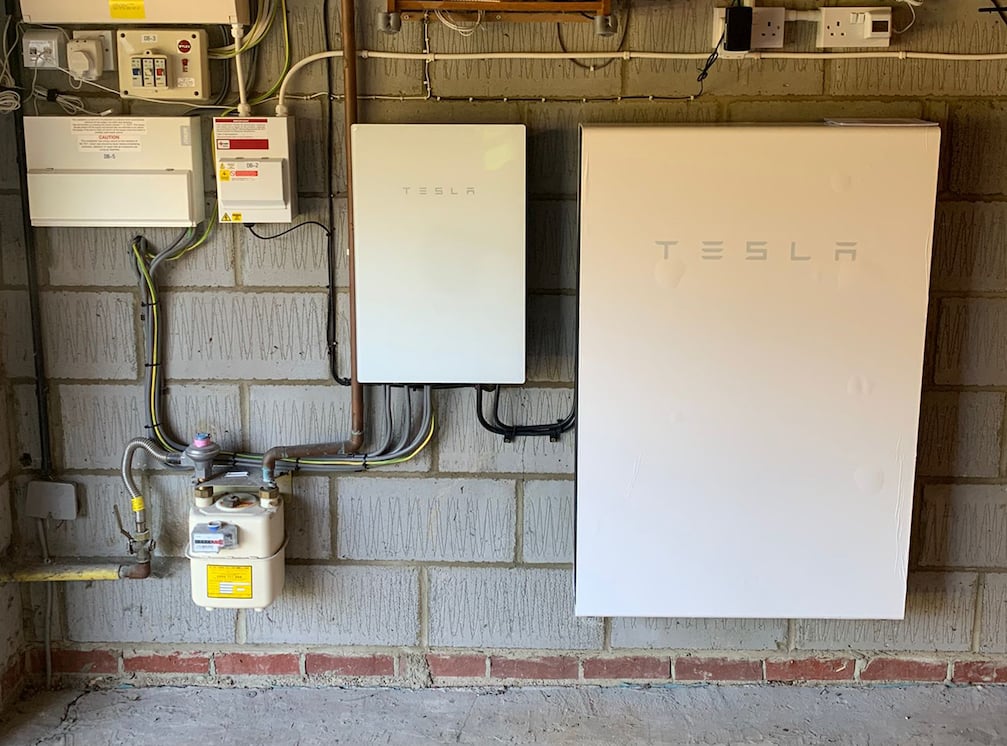 Tesla Energy Plan
Many solar and Powerwall owners are understandably keen to get the most for any energy that they send back to the grid. The Smart Export Guarantee ensures that energy companies do have to pay you something for your excess solar power, but it's not always that much.
Luckily Octopus Energy and Tesla have partnered to offer the Tesla Energy Plan for homeowners with solar PV and Powerwall. On this plan, your import and export rates are the same - 10-12p/kWh depending on where you live. This is both much cheaper than most import rates and more generous than most other export rates. In return, you allow automated charging and discharging of your battery to help balance the grid.
How soon can we install Powerwalls?
We're currently seeing demand for Powerwalls at a record high, likely fuelled by the ongoing energy crisis. When electricity prices are this volatile, we can hardly blame you. But this has also coincided with stock shortages from Tesla, as the appetite for home and vehicle batteries across the world exceeds supply.
So as painful as it is, we have to warn you that it's looking like Powerwall installations booked now won't be able to go ahead until next summer at the earliest… The only consolation we can offer is that by getting your name down, you'll be reserving your place in the queue when stock returns.
In the future, you could then be enjoying the benefits seen by Mr G. As he summed up, "Perhaps most significantly this investment should help to stabilise our energy expenditure, at a time when all our energy bills seem set to rise very significantly."
For more information on Tesla batteries, give us a call on 0118 951 4490 or download our free guide: